The India-Africa Forum Summit (IAFS) is the official platform for African-Indian relations, a celebration of the close partnership between Africa and India. It is an acknowledgement of the shared history as well as future prospects, and is of the belief that India and Africa share the similar core values and cherish the same dreams. The summit was first held in 2008, from April 4th to 8th in New Delhi, India. The second summit took place at the Ethiopian capital, Adis Ababa, with India and 15 African countries participating. The 3rd edition of the India Africa Forum Summit 2015 is taking place from the 26th to 29th of October in New Delhi, India and has the largest participation so far.
Its a privilege to welcome leaders of African nations for @indiafrica2015. The summit is historic & will deepen India's ties with Africa.

— Narendra Modi (@narendramodi) October 28, 2015
This is the current government's biggest diplomatic outreach involving delegates from a large number of African nations. It is also by far the largest-ever turnout of African leaders in India, unlike the previous summits where the event was restricted to only 10-15 African countries. South African president Jacob Zuma, Egyptian president Abdel Fattah el-Sisi, Zimbabwe president Robert Mugabe and Nigerian President Muhammadu Buhari have confirmed their presence in New Delhi for the India-Africa Forum Summit.
Some more glimpses of my interactions with African leaders. @indiafrica2015#IAFSpic.twitter.com/2PlcAbX264

— Narendra Modi (@narendramodi) October 28, 2015
And while they attend one meeting after another, and discuss significant aspects of the India-Africa partnership, the First Ladies have a packed itinerary too. One of India's best Chefs, Kunal Kapur has been working on the menu for a feast, showcasing Indian cuisines to 42 First Ladies, today on the 29th October 2015, the last day of the India Africa Forum Summit 2015. Chef Kunal decided to try something new and engaged his social media fans to build his menu for the event. What a fantastic way to put more heads together and also make his followers feel the excitement of the summit!
Let's give the first ladies a taste of street food of India. Any suggestions? @indiafrica2015#IAFS#IndiaAfricapic.twitter.com/n0PbyRxLfE

— Kunal Kapur (@ChefKunalKapur) October 27, 2015
Tone down spices for 1st ladies? or keep as is! Retweet if Tone Down Fav if No @indiafrica2015#IAFS#IndiaAfricapic.twitter.com/VDuHlAQSFm

— Kunal Kapur (@ChefKunalKapur) October 28, 2015
And of course, the Twitter world is, as always, the first to react. They couldn't hold back their excitement and suggestions flowed in, from fish kebab to lachcha paratha, nadroo yakhni to palak patta chaat. Scroll down to see more:
@ChefKunalKapur@indiafrica2015 chatpati pani puri with something new ;)

— Divya Joshi (@divi_joshi) October 27, 2015
@ChefKunalKapur@indiafrica2015 Matar(green peas) Kachori,a flavor of delhi ki chaat and kokum sherbat/jalzeera as a welcome drink

— Shraddha Jain (@shraddha711) October 27, 2015
@ChefKunalKapur@indiafrica2015 desert fruit salad with double icecream

— fathima tabassum (@fathimatabassu4) October 27, 2015
And guess what? Chef Kunal surely did listen. Here's a sneak peak straight from the kitchen:
My tray is set for #GolGappas for the first ladies! @indiafrica2015#IAFS#IndiaAfrica#cookwithkunal#kunalishpic.twitter.com/4ic6oPVV9b

— Kunal Kapur (@ChefKunalKapur) October 29, 2015
Behind the scenes @indiafrica2015#IAFS#IndiaAfrica@PMOIndia@narendramodi@timesofindia@htTweetspic.twitter.com/5Zr6iSAq1O

— Kunal Kapur (@ChefKunalKapur) October 29, 2015
Back in the kitchen @indiafrica2015@PMOIndia@narendramodi#IAFS#IndiaAfrica@timesofindia@htTweetspic.twitter.com/F3nAOBpRwu

— Kunal Kapur (@ChefKunalKapur) October 29, 2015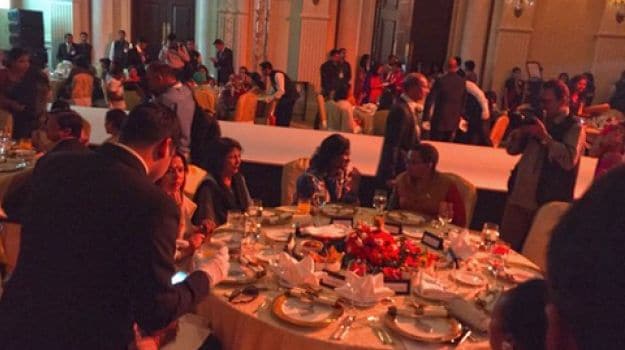 Image Credits: Twitter/Chef Kunal Kapur