Bengali sweets get a modern makeover
IANS , Kolkata | Updated: November 04, 2013 11:54 IST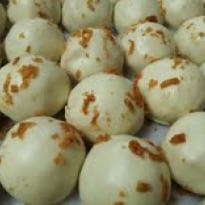 Rosemary sandesh, nolen gurer madeleine, malpua cheesecake or rabri brownie. Bengal's famous mishti or sweetmeats are being reinvented in a yummylicious way this Diwali. And there are fusion options galore.

Be it additions of exotic Western ingredients like rosemary to the classic milk-based recipes or incorporating quintessential Bengali flavours like the heady aroma of mustard into contemporary desserts, there's some serious experimenting going on in the kitchens here.

Call it fusion or label it as spin-offs of popular desserts, these neo-mishtis (some of which look like your average truffle, pancake or mousse) are in no danger of facing an identity crisis.

For, use of typical Bengali spices and herbs ensures the instant heritage connect.

"People always want something new...the more exposed they are to other cultures...the more variety they want. They are willing to try new forms of sandesh (cottage cheese-based dessert of various shapes and flavours) and this is the reason we have experimented in flavours like blueberry, mango and chocolate since 2000," proprietor Sudip Mullick of the 128-year-old sweetmeats icon Balaram Mullick and Radharaman Mullick, told IANS.

Mullick's shop has come up this year with the rosemary sandesh. Rosemary, a trademark Italian herb, Mullick explained, has a wide following among gourmands. And to cash in on the burgeoning pasta-lovers, such innovations are necessary.

Yet the core concept of Bengali sandesh is not diluted.
"As long as we retain the basic recipe of the sandesh we know we are serving something traditional with a modern twist...it is still a sandesh," Mullick explained.

At the other end, items like nolen gurer truffle (truffle composed of jaggery) and the nolen gurer madeleine (French buttery sponge cakes laced with jaggery) are evidence that trademark Bengali ingredients like jaggery work well with western desserts.

These are not fusion but "contemporary desserts", maintained chef Joy Banerjee, the man behind Bohemian - the restaurant that presents "traditional Bengali aromas and flavours in new avatars".

You wouldn't think of the pungent mustard and delicate coconut flavour to come together in a sophisticated mousse, but Banerjee shows the way with the revolutionary Mustard and Tender Coconut Mousse.

"The key is to balance the flavours so that things like mustard, known for its strong aroma, doesn't overwhelm the palate," the chef told IANS.

The hot-seller, malpua cheesecake (star anise flavoured chenna or cottage-cheese cheesecake interlayered with traditional malpuas or pancakes) is an example of innovative ways to use age-old components in Western formats like that of a cheesecake.

So when one gets a hint of the Bengal king of lime or Gondhoraj in the Gondhoraj cheesecake or digs into the succulent rabri in a Death by Rabri brownie dish at the Veda restaurant, it cements the recall value of the product.

"Whether our guests are youngsters or seasoned foodies who know their food well, anyone can connect with the inherently Bengali flavours," chef Debashish Saha of Veda told IANS.

In Picture: Nolen gurer truffle (sandesh) at Balaram Mullick and Radharaman Mullick