This Durga Puja 2016, enjoy Bengali sweets on a whole new level.
If I were to choose to live in a place in India basis the food that I could eat, I would most definitely choose to live in Bengal.
Bengali sweets
and
mishti
are the holy grail of dessert for me. For sophisticated Bengali 'bhadralok', culinary indulgences are an integral part of their rich and varied cultural heritage. Sweets not only form an important part of the amazing Bengali cuisine, but their popularity transcends age groups or ethnicities and are renowned the world over as well. My own fixation for Bengali sweets is surely to be blamed for my relentless creative pursuits to adapt them in more modern avatars.Here are a few dishes that I experimented with in my patisserie and
Durga Puja 2016
is the best time to share them with you!
1. Rasgulla Cupcake Surprise
If you want an exotic touch to a store-bought favourite, this is all you need to do this Durga Puja. The flavours are all Indian, but the textures and method is a modern twist on how to repackage a rasgulla.Preparation time: 40-45 mins
Ingredients for the Cupcakes:
Unsalted
butter
- 115 gms
Castor sugar - 250gms
Large
eggs
- 2
Rose essence - 1 tsp
Buttermilk
- 200 ml
All-purpose flour - 225 gms
Baking powder - 2 tbsp
Salt - 1/2 tbsp
Chopped
pistachios
, toasted - 50gms
Rose petals, dried - 1 tbsp
1 small/ medium size rasgulla per cupcake
Ingredients for the Rose Buttercream Frosting:
Unsalted butter - 240gms
Sifted icing sugar - 500gms
Rose essence - 1 teaspoon
Full cream milk - 1 tablespoon
1/2 teaspoon salt
Organic pink food colouring - 2 drops
Method:
1. Preheat the oven to 170 degrees Celsius.2. Prepare a 12 hole muffin tin by lining with paper cases.3. To make the cupcakes, in a large bowl, using an electric mixer, beat the butter and sugar together until they're light and fluffy, about 4-5 minutes. Add the eggs one at a time and the rose essence, beating well after each addition until fully combined.4. In a medium bowl, mix together the flour, baking powder and salt until well combined.5. To add the dry ingredients (flour mixture) and the buttermilk to the butter mixture, start by adding one third of the dry ingredients and mix until just combined, then add half of the buttermilk and again mix until just combined. Add another third of the flour mixture, again beating until just combined, then add the rest of the buttermilk and beat. Finish off by adding the last of the flour mixture and stir until just combined. Overbeating at this stage will cause glutens in the flour to form, giving you a dry, tough sponge. You might find it helpful to use a wooden spoon or hand held whisk to mix if this helps you avoid overmixing.6. Gently fold the toasted pistachios (50g) into the batter until evenly distributed.7. Spoon the batter into the prepared paper cases, filling the cases to two thirds full.8. Gently place a rasgulla in each paper case to submerge it in the batter.9. Bake for 30-35 minutes, until the cupcakes are lightly golden and the sponge springs back when lightly touched. You can check by inserting a toothpick into the centre of a cupcake - if it comes out clean, they're done. Remove from the oven and place on a heatproof surface. Allow the cupcakes to cool in the tin for 10 minutes, then transfer to a wire rack to cooling completely before frosting.10. To make the buttercream frosting, in a large bowl using an electric mixer, beat the butter for 1-2 minutes until smooth. Gradually add the icing sugar a quarter at a time and beat until smooth. Add the rose water, adjusting to your preference, and 1-2 tablespoons of milk, depending on how thick the frosting is, and beat again until incorporated. If the frosting is too thick, add some more milk, 1 tablespoon at a time and beat, until you're happy with it. If it's too runny, gradually add more sifted icing sugar until you're happy with the consistency. Once you're happy with the consistency, add in a few drops of pink food colouring gel or paste and adjust according to your preference.11. To frost the cupcakes, fit a piping bag with a star nozzle and fill it up with the buttercream. You can decorate with a sprinkle of toasted pistachio and some dried rose petals.
2. Nolen Gurer Panacotta
This set pudding is inspired by the basic kheer, a very simple and quick to make dessert popular all over India. But the Nolen Gur, date palm jaggery, that is readily available through the year at good stores, just takes it to another heavenly level.
Method:1. Combine the milk with sugar and cardamom powder and bring to a boil. And remove from flame and add nolen gur. Stir.2. Now add bloomed gelatin, followed by cream.3. Set in desired glasses or cups and top up with nuts or fruit to serve.3. Date and Toffee PuddingDrawing inspiration from a date sandesh I had at a friend's place, this pudding is a delight with children. What's more, it is packed with nutrition and is great to have either warm or cold.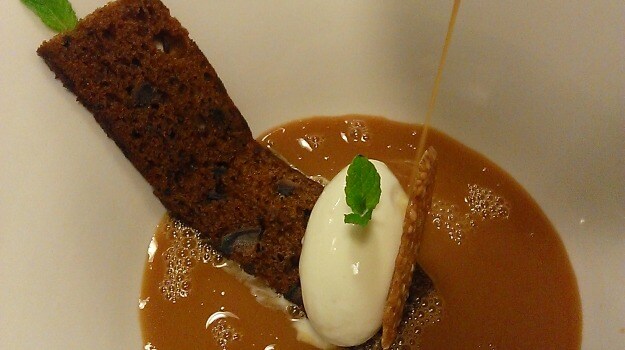 Preparation time: 20-30 minsBaking time: 40-45 mins at 180 degrees CelsiusIngredients for Pudding:
Butter - 125gms
Brown sugar - 150 gms
All-purpose Flour - 400 gms
Baking powder - 1 tsp
Dates - 400 gms
Water - 1/2 litreIngredients for Toffee Sauce
Cream - 250ml
Butter - 250 gm
Sugar - 500 gm
Vanilla Essence - 5 dropsMethod:1. For the Toffee Sauce: Place butter and sugar in medium saucepan on medium heat. Cook and stir until mixture turns a deep amber color. Carefully stir in cream and vanilla (mixture will be bubbly). Whisking constantly, cook until sauce thickens and coats the back of a spoon.2. Boil dates in water till they are pulpy. If you add a pinch of baking powder to the dates while they are boiling, they will be softer.3. Cream the butter with brown sugar - simply whisk the two ingredients in a bowl.4. Add eggs to the mixture and blend well till fluffy.5. Add flour and baking powder.6. Add 500 g toffee sauce and then add boiled dates.7. Pour into the greased pans (or one individual mould, if you like) and bake at 180-200 degrees Celsius for 40 to 45 minutes. Make sure pans are extra greased in order to take out the pudding easily.8. Serve hot or cold with toffee sauce. If you like, this pudding can also be served with maple syrup.Go on, enjoy these scrumptious sweets this Durga Puja 2016!Disclaimer:The opinions expressed within this article are the personal opinions of the author. NDTV is not responsible for the accuracy, completeness, suitability, or validity of any information on this article. All information is provided on an as-is basis. The information, facts or opinions appearing in the article do not reflect the views of NDTV and NDTV does not assume any responsibility or liability for the same.