Festive Tarts: Give a Savoury Spin to This Holiday Special
David Tanis, The New York Times | Updated: July 12, 2017 13:31 IST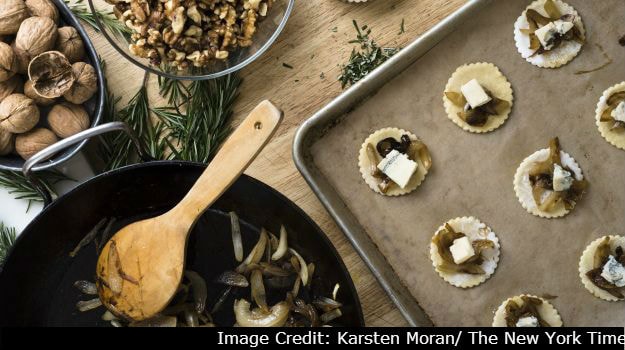 For the home cook, the holidays are all about baking. The pies! The cakes! The cookies! But why not give a thought to those guests without a sweet tooth? In terms of savory offerings, there's more to life than cheese and crackers.

I'm one of those salt-loving creatures. If I had to make the choice of sugar over salt, sugar would lose. I'd happily skip dessert in favor of one more saline treat.

So if you love to bake, consider going in a salty direction. Actually, the little savory tarts I'm recommending are no more difficult than making a batch of cookies. Caramelized onions and Gorgonzola on buttery pastry rounds, topped with walnuts and sprinkled with rosemary — what's not to love?

It's a combination sometimes found on a modern pizza, and in a way these are a kind of fancy mini pizza. Instead of being bite-size, they are two or three bites; they also are one-hand snacks. Why do people serve fork-food at cocktail parties anyway?

If you're organized, it's a fairly simple project. Even if you're not, you can easily pull this off. Make the dough a day ahead, so it's waiting for you in the fridge. Time saved. Or make it a week ahead and pop it into the freezer. Or make the dough and roll it out, cut the little rounds and freeze those so they're ready to top and bake. If you want to do it all in one go, that's fine, too.

You'll want to use this simple buttery pastry dough for other baking projects, too (sweet ones included — apple galette, for instance). The pebble-size chunks of butter give it incredible flakiness.
As for the onions, that too can be made a day or two in advance. Then it's a quick matter of putting the topping on the tarts and giving them 10 minutes in a hot oven. The tarts reheat beautifully, too. So you can make them in the morning and serve them in the evening.

If Gorgonzola is not your cup of tea, use another flavorful cheese, like Fontina, or try prosciutto and mozzarella instead. The possibilities are unlimited.

As for beverages, anything goes, and goes well: Champagne, white, red or sherry. There is no doubt a nifty cocktail that's the perfect match, but I'll leave that to the mixologists.

Now, go forth and bake something salty. Though if you'd like a cookie with your coffee before you begin, feel free.

Little Onion Tarts With Gorgonzola and Walnuts

Time: 1 hour, plus chilling

Yield: 24 small tarts

INGREDIENTS

FOR THE PASTRY:

1 cup/150 grams all-purpose flour

Pinch of salt

4 ounces/113 grams unsalted butter, cold, cut in 1/4-inch cubes

2 tablespoons/30 milliliters ice water

1 tablespoon/15 milliliters lemon juice

FOR THE TOPPING:

2 tablespoons olive oil

1 pound yellow onions, sliced 1/8-inch thick (about 2 cups)

Salt and pepper

3 ounces Gorgonzola or other blue cheese, cut or broken into 1/2-inch chunks

1/2 cup walnut pieces

1 tablespoon finely chopped rosemary

2 tablespoons finely cut chives

Fleur de sel, for sprinkling (optional)

PREPARATION

1. Make the pastry: Put flour and salt in a mixing bowl. Add half the butter and work it into the flour until it resembles damp sand. Add the rest of the butter cubes, the ice water and lemon juice and mix just until the dough comes together. (There will be little chunks of butter in the dough — this makes the pastry flaky.) Form dough into a disk shape, wrap in plastic and flatten to a 1-inch thickness. Refrigerate for at least an hour, or up to a day in advance.

2. Make the topping: Put olive oil in a cast-iron skillet over medium-high heat. Add onions and brown for about 5 minutes, stirring. Season generously with salt and pepper. Turn heat to medium and cook until onions are soft and well browned, about 10 minutes. Let cool to room temperature. Heat oven to 425 degrees.

3. Roll out pastry to about 1/8 inch thickness. Using a cookie cutter or a glass, cut out 2-inch rounds and move them to a plate. Once you've filled the plate, transfer to the refrigerator. Reroll the scraps and continue to cut rounds, chilling as you go. You should have 24 pieces.

4. Line 2 baking pans with parchment and lay 12 pastry rounds on each. Put about 1 tablespoon of the caramelized onions on each round, followed by a piece of Gorgonzola. Top each with walnut pieces. Sprinkle with a small pinch of chopped rosemary.Transfer to oven; bake for 10 to 15 minutes, until lightly browned. Sprinkle each tart with chives, and a speck of fleur de sel, if using. Serve warm or at room temperature.

Tip: May be baked up to 6 hours ahead. Reheat, uncovered, at 350 degrees for 10 minutes.

© 2015 New York Times News Service