A few months ago, my friend Lev asked me for a basic grocery list he could refer to when he made his weekly or biweekly trip to his neighborhood store. "How can I shop and cook for one, healthfully, cheaply and well?" he wanted to know.
As Lev had discovered, grocery shopping for one person is not as easy as shopping for, say, a family of four. You buy too much or your plans to cook change, and you end up with a lot of wasted food. According to the National Resources Defense Council, the average American throws away between $28 and $43 worth of uneaten food each month. That's a lot of money - enough for a meal out and a couple of glasses of wine. The solution? A little forethought, organization and smart shopping.
This list below is the one I refer to before my supermarket trips. I take inventory of my refrigerator and pantry, note what I need and make sure I hit each section of the list. When I get to the grocery store, I start my shopping on the perimeter aisles (typically produce, dairy/eggs, meat/fish). These fresh ingredients are the staples of healthy home cooking, and are the things I tend to run out of each week. The inside aisles (oils, pastas, breads, beans, grains, packaged goods) are the shelf-stable pantry goods I typically need to replenish less frequently.
Speaking of shelf-stable non-perishables, I buy them in the bulk section whenever I can. The extra 20 seconds spent looking for the product code and writing it on a twist-tie is well worth the money I save since I'm not paying for packaging. Flours, grains, pastas, coffee, tea, snack mix, even some cookies and candies can all be purchased in the bulk section. Not only is the bulk section good for when you want a lot of something (such as beans or grains), it's also great for when you only want a little of something (such as those dangerously delicious raspberry-fig bars at my local Whole Foods).
Okay, grab your reusable bags and let's get shopping.
PRODUCE
Greens you can eat cooked or raw
Baby spinach or kale (go for dark green lacinato/dinosaur kale as opposed to the lighter green curly variety) are my picks. Use to make salads or saute in a bit of olive oil.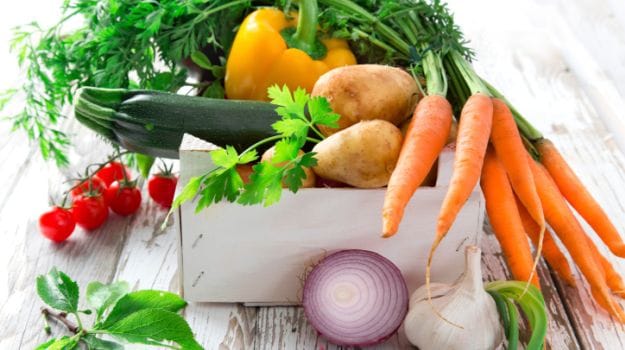 Image credit: Istock
Baby carrots, mini Persian cucumbers, mini bell peppers, or any other crunchy, easy to eat raw vegetables
For healthy snacking, but can also be used in cooking.
1 or 2 medium onions
I usually buy yellow (which I find have the most flavor), but white or red are okay too. Look for what's on sale.
1 head of garlic
You'll use it in just about everything. The pre-peeled kind is okay, if you know you'll be using it quickly (otherwise it oxidizes and becomes rancid). Do not buy the chopped, jarred variety; it doesn't taste as good, and it's more expensive than fresh.
Fresh herbs
Using fresh herbs is the quickest way to take your cooking from average to great with very little effort. My weekly buys are cilantro for Asian/Latin dishes and flat-leaf parsley for Italian/Mediterranean. Mint and basil are semi-regulars. Buy the full bunch as opposed to those small plastic containers with single servings of herbs - it's cheaper and there's less waste.
1 or 2 lemons
Good for flavoring water and squeezing over cooked vegetables or salads.
Apples, oranges, bananas, or another in-season, easy to eat fruit
If it's easy to eat and requires little to no prep beyond washing, you are more likely to eat it. Which is the idea.1 or 2 avocados
If you think you'll eat two in a week, buy one that is ripe and one that is still a little hard (it'll be ripe by the time you're ready to use it).
Grapes
Rinse and put them in the freezer so you have a healthy dessert option around when late-night cravings for sweets hit.
EGGS AND DAIRY
1 dozen eggs
Great for breakfast on a toasted English muffin, but also just an excellent source of high-quality protein. You can do so much with one carton of eggs. Hard or soft boil a few and keep them around as a nutritious snack, or chop them up and put them over salad greens.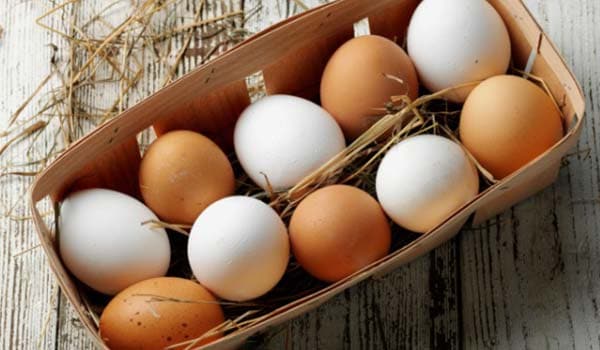 Image credit: Istock
Half-and-half
Half-and-half is for more than just coffee. You can use it to thicken creamy soups, sauces and curries, but it also can be diluted with water - use equal parts half-and-half and water - to make milk. (I know it seems weird, but it totally works.) I don't drink straight milk, so I keep half-and-half around for when I need it for cereal or a recipe calling for milk.
Cheese
Choose something with mild flavor that can be used for a variety of things, including snacking on. Low-moisture mozzarella, mild or medium cheddar, or jack are all good options. Use it in sandwiches, shredded over scrambled eggs, cubed in salad or stirred into pasta.
Butter
My favorite kind is Kerrygold. Good for spreading on toast and cooking, and the foil wrapper keeps it tasting fresh for a long time.
MEAT/FISH/TOFU
I alternate between sausages (which are usually cheapest if you get them at the deli counter as opposed to pre-packaged; simply pan-fry or grill for a quick dinner), chicken thighs, tilapia (sustainable and easy to cook) and sprouted extra-firm tofu.
NON-PERISHABLES
Pantry basics
These are shelf-stable and last a long time. You'll need to replenish them less frequently than the rest of the things on this list: extra-virgin olive oil (for salads and sauteing), at least one vinegar (apple cider, balsamic and rice vinegars are my staples), salt (either sea salt in a grinder or kosher salt) and pepper (either whole peppercorns you put in a grinder, or a disposable grinder with peppercorns in it already).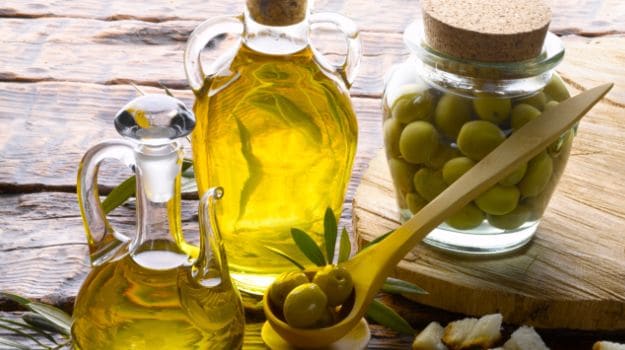 Image credit: Istock
Coffee or tea
If you drink coffee, buy beans in bulk and, if you don't have a grinder at home, use the in-store grinder to grind them yourself. That's much cheaper than buying pre-ground coffee in bags. Consider getting a reusable filter; I like this one. If you prefer tea, look for basics like Earl Grey or English Breakfast in bulk (either bagged or loose-leaf). If you like mint tea, try brewing it with fresh mint leaves instead.
Pasta
I like to buy strand pasta that can be used in Italian or Asian dishes, depending on my mood. Fettuccine, linguine, and spaghetti are all good picks.Canned tomatoes (chopped or crushed)
Buy the fire-roasted variety from Muir Glen: The tomatoes are slightly sweet, a little bit smoky and so delicious. Make the best quick tomato sauce ever by sauteing half a can of tomatoes with a couple of cloves of garlic and a tablespoon or two of extra virgin olive oil.
Canned beans
Pinto, black, or cannellini (Italian white) beans. Rinse them before using. Use pinto and black beans in tacos, quesadillas, and burritos. Toss the white beans with cooked pasta, olive oil, garlic and parsley. They're a great source of protein and fiber.
Nut butter
Eat it with apples or spread it on an English muffin. Mix it with soy sauce, honey, and chopped garlic to make a quick sauce to toss noodles in.
Moskowitz, editor of BrokeAssGourmet.com, is the author of "The BrokeAss Gourmet Cookbook" and "Pizza Dough: 100 Delicious, Unexpected Recipes. She is also a producer of the ABC Family show "Young & Hungry."
© 2015 The Washington Post