"The world's greatest scrambled eggs were invented by the Australian chef Bill Granger," says Henry Dimbleby. Photograph: Jill Mead for The GuardianThey might seem simple, but whether scrambled, poached or boiled, eggs take practice to cook well. In the final part of this series, Henry shares his tips for getting the best results.This is the last of our Back to Basics columns. From next week, we will be expanding our ambition from single dishes to entire meals. We will still be writing for novice and nervous cooks, but attempting to help you with the complexities of timing that arise when cooking larger spreads for more people.
But, as the French say, sometimes you have to draw back to make a better jump. So in this last column, we are going right back to basics. How to cook eggs: scrambled, poached and boiled. And, as with bigger meals, we will find that it is all about timing.
Scrambled eggs
Scrambled eggs come in many forms. There is the English service station formulation – hard-set in a metal tray, very white, and swimming in a watery liquid. Then there is the classical style – cooked agonisingly slowly over a gentle heat with lots (and lots) of butter. The result of this method is very rich and very tasty, but in texture it resembles a hollandaise sauce more than anything you would want for breakfast. Nice with truffle grated on top, but too rich to go with bacon.
The world's greatest scrambled eggs in my view (and if you don't believe me, heed The New York Times were invented by the Australian chef Bill Granger. Bill is devilishly handsome, irritatingly successful and has a smile that could power Cardiff. His restaurant empire, which includes Granger & Co in London, spreads from Sydney to Seoul, Tokyo and Honolulu.
I was lucky enough some years ago to do a food demonstration with him at the Abergavenny food festival, where he taught me live on stage how to make these eggs. As with many great culinary breakthroughs, he discovered the method by accident when he got slammed on a busy brunch service in Sydney. Everyone was ordering scrambled eggs and he couldn't keep up cooking them the traditional slow way. So he turned up the heat, instinctively added some cream and saw that it produced the now-famous silky curds. He had created one of those recipes that manages to be both easier and better than the traditional version.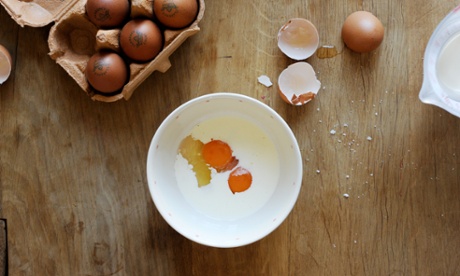 Serve it on a couple of rounds of buttered sourdough toast. If you are making eggs for more than 2 people, it's best to do it in batches so as not to crowd the frying pan. Bill uses milk instead of cream when he cooks them day to day. But that seems a shame.
Preparation time: 2 minutes
Cooking time: 5 minutes
Serves 1
2 really good eggs
80ml double cream
1 pinch of salt
10g unsalted butter
1 Put the eggs, cream and salt in a bowl and whisk together.
2 Melt the butter in a nonstick frying pan over a medium to high heat, taking care not to burn it.Pour in the egg mixture and cook for 20 seconds, or until gently set around the edges.
3 Stir the eggs with a wooden spoon, gently bringing the egg mixture on the outside of the pan to the centre. The idea is to fold the eggs rather than scramble them.
4 Leave to cook for 20 seconds longer and repeat the folding process. When the eggs are just set (remembering that they will continue cooking as they rest), turn out on to the toast.
Poached eggs
Poaching eggs the traditional way – by cracking them straight into simmering water – requires just three things: very fresh eggs, confidence, and practice.
You can tell if the eggs are fresh by cracking the egg into a teacup first. If the white is runny it isn't fresh enough: as soon as it hits the water, the white will spread in misty fingers around your pan. If the white is jellified and resists gravity to cling around the yolk, it is fresh. Bring a small pan of water to a gentle simmer, add salt, but not vinegar (yuk!) and crack the egg in. It will take about 2 minutes for a soft-poached egg, depending on the egg and the pan.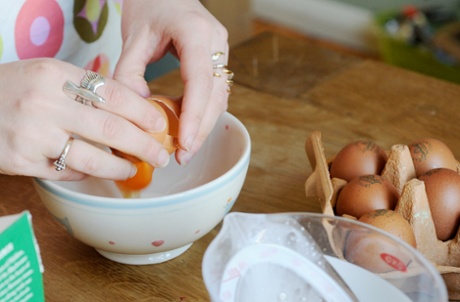 This is the bit that takes practice and confidence. Take out the egg with a slotted spoon and dry it on a clean tea towel or piece of kitchen towel. (NB: an internet meme is doing the rounds suggesting a Julia Child technique of cooking the egg in its shell for 10 seconds prior to cracking it. I haven't found this really helps). If you don't have fresh eggs or you don't have the time to practise and build confidence, try this method instead:
1 Line a teacup with a piece of clingfilm. Crack in an egg.
2 Boil the kettle. Bring up the edges of the clingfilm and seal with a tight twist, leaving a little airspace next to the egg. Fill a small saucepan two-thirds full with boiling water, and put the pan on the boil.
3 Gently drop your egg parcel into the boiling water in the pan, turn the water down to a simmer and set your timer for 4 minutes for soft eggs or 5 minutes for hard.
Boiled eggs
There are only two ways to boil the perfect egg. The first requires some trial and error, as you experiment with your pan, your eggs, and your stove. Everyone's set up is slightly different, which leads to variations in timing. My kitchen, my eggs, my rules: it takes 6 minutes for an egg plunged into boiling water to become the perfect texture to be dunked with soldiers. The other thing you can do is buy one of those egg-shaped colour-changing timers that you put in the pot with the eggs as they boil. I've found they work a treat.
Henry Dimbleby is co-founder of the natural fast-food restaurant chain Leon (@henry_leon). Get your kids cooking at cook5.co.uk