So the world has got to know about the 'secret McDonald's menu' and is reading up more and more about the same, but what remains at the bottom of it, is nothing short of a farce. The news raked up the World Wide Web as soon as a Reddit user 'OrchidHibiscus' shared information about the alleged secret menu. The guy claimed to be a shift manager at a chain in Glasgow, Scotland, and explained how any ingredient can be added to an existing order and custom-made into a brand new food item according to the customer's preference - and such an item is referred to as a 'grill order'.This 'secret menu' and the concept behind it was not officially developed by McDonald's, however, any request for a change or customization of a standard McDonald's order is purely associated and depended on the restaurant manager's discretion.
"Order one and the workers might not know it by name... but if you explain what it is, and are willing to pay for all the ingredients, it's just another 'grill order' that we can make up," wrote OrchidHibiscus.(Burger King Eliminates Soft Drinks From Children's Meal Menus)
What's on the menu?
The 'secret menu' looks more like a list of food items collated based on some serious food-dreaming by its loyal customers. For example, you can go on and savour a McChicken with Filet o' Fish. You can have a McGangBang (McChicken inside a McDouble, quite literally!) which has layers of burger, bun, chicken, cheese and burger in between the two buns.You even have a combination of crumbled apple pie and McFlurry which gives you a, well, Pie McFlurry. But what escapes the realm of any definition is the Monster Mac, which is some sort of a burger-sandwich containing eight layers of patties, smeared with a special sauce and topped with lettuce, cheese, pickles, and onions.
And if this doesn't get you dreaming, a website called HackTheMenu has over twenty such items listed on their site.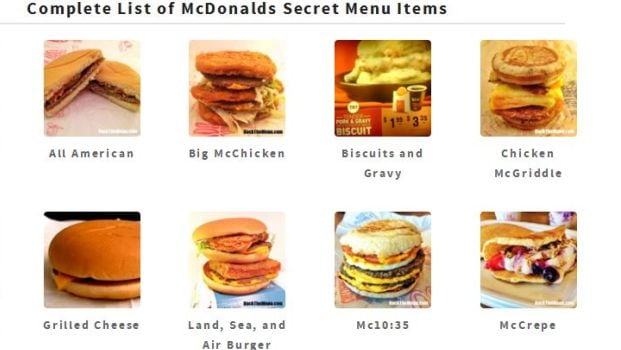 Image via HackTheMenu official websiteSo, basically these variants do exist in some parts of the world and customers can happily ask for the customisation and enjoy their 'happy meal', whereas in some other places, when asked for a combination of two different items to make into one big meal, what followed were some raised eyebrows and smirks. We tried getting our own little customised meal by asking the nearest chain to put a McEgg, a McChicken and a Filet o' Fish together, but the staff declined our order. We are guessing the 'secret menu' is not taking off in India anytime soon!(The American Burger Bandwagon: Carl's Jr Opening its first Outlet in India This August)
The Official take
McDonald's UK got the fun hat on and claimed the non-existence of any 'secret menu' in the UK.
When you realise the #SecretMenu at McDonald's UK doesn't really exist! #mythbusterhttps://t.co/CrX8gi7Fyupic.twitter.com/mJaRs1W7JC

— McDonald's UK (@McDonaldsUK) July 21, 2015
The official McDonald's website has a statement posted in one of its archive logs which goes as follows: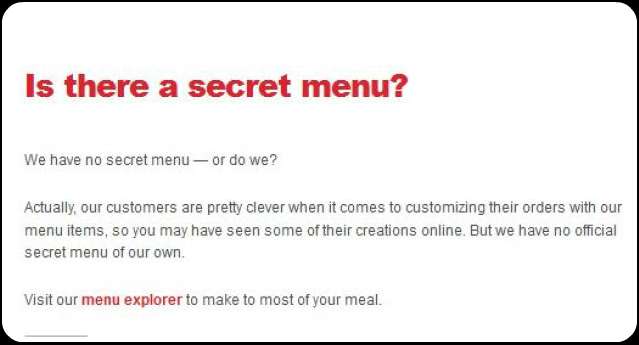 Still thinking about the 'secret menu'? An easy option would be to pick McWhatevers and create your own combo and who knows, the chain might just start taking customised offers on a global level. Dream on!