Along with
idlis
and
dosai
,
medu vada
is the third item in the holy trinity of Tamil Nadu's most beloved exports to the rest of India. It isn't hard to see why. Crisp on the outside but pillow-soft within, a well-made
medu vada
is a delicious, comforting snack. The
vada
is made of
urad dal
batter, ground into a thick paste and then plopped into sizzling oil to form swollen, golden doughnuts. The batter is sometimes laced with ginger, curry leaves, chillies and tiny chunks of coconut, which delicately transforms the flavour of the dish. But even without, the
medu vada
is still one of the most moreish items offered by the state down south.I don't particularly like tampering with the simple
medu vada
but I have tried its various permutations. In the their
vada
variation, the
medu vada
comes soaked in a bath of slightly sweet, whipped curd. You may get
rasam vada
which, as its name suggests, is
vada
dunked in a pool of peppery
rasam
. They both taste good, but honestly, what's the point? I order my
vada
for its crispy texture; a drenched
vada
becomes soft and spongy and all the joy goes out of it. Order it plain and then souse it, piece by piece, in your accompaniment of choice. My favourite accompaniment is the white, freshly-prepared coconut chutney which I proceed to slather on to the fritters. In fact, I can eat platefuls of the chutney all on its own (and I have, to the bemusement of surrounding waiters). Naturally, it makes a perfect team with
rasam
or s
ambhar.Medu vada
can also be an impeccable
breakfast or snack companion
to a steaming cup of filter coffee or
chai
.
Where to Eat Medu Vada
Medu vada
are available across
Mumbai
, but as everyone knows, the best ones are to be found in the cluster of South Indian restaurants in Matunga. Matunga is home to some of the city's best Udupi joints serving
Tamilian food
. Cafe Madras and Cafe Mysore are perhaps the best known, quite rightly, but there are lesser-known gems such as Sarada Bhavan, Ram Ashray, Mani's Lunch Home, Ram Nayak Udupi and Arya Bhavan.Cafe Madras, in spite of its spartan decor, has built up a vast clientele through the superiority and consistency of its food. But the
medu vada
seem to be somewhat lacking. Every time I have been there, they have been served lukewarm and without the usual coconut within (although still delightfully crunchy), so make sure you get there early enough for a freshly-made batch. Close by, Cafe Mysore's
vada
are golden hued and crunchy but not greasy. Sharada Bhavan's
vada
are slightly more gingery than the others I have tried. Strong ginger is not to my taste, but my friends have found it delicious.
Ram Ashray is especially popular with morning walkers, since it is up with the lark at the unearthly hour of 5:30 am. The
vada
here is excellent, not too hot, not too cold, crunchy yet soft enough to melt immediately in your mouth. Wash it all down, if you must, with their popular pineapple
sheera
. Mani's also serves great Tam Brahm food and its
vada
arrive piping hot to the table. At Mani's, I make an exception to my chutney-only rule. The
sambar
is delicious, prepared with thickly cut vegetables laced with tamarind and ground coconut paste as a base.
How to make medu vada
I do not profess to be an expert
medu vada
maker but I have an easy and delicious recipe that I have been following for years. Mine come out rather uneven and sometimes without the hole in the centre, but no doubt, someone with a more skilful hand will be able to turn out a more aesthetic
vada
. I have found that a thicker-textured batter is more conducive to making a
medu vada
with a hole.Here is the recipe we use at home.
Ingredients:
200 gm white urad dal
3 kadi pata (curry leaves)
A tiny sprinkle of methi seeds (too much and the whole batter can turn bitter)
A pinch of hing (asafoetida)
1 green chilli 1 or to taste (finely chopped)
Salt to season
Oil for frying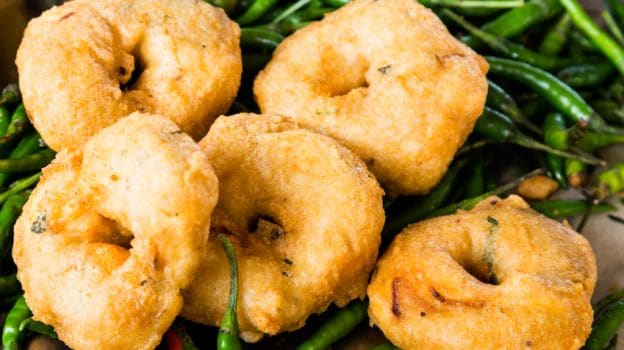 Method:
Wash and soak the
urad dal
in some water for 2-3 hours. Do not soak it overnight, or else the batter will not have the right consistency. Pour the
dal
into the mixer and start grinding. Add a little water at a time, never all at one go. The paste should not stick to the sides of the machine, so make sure you keep wiping the sides off.Keep grinding until the batter becomes fluffy. This should take approximately ten to fifteen minutes. The batter shouldn't be terribly light though - a certain density and tightness is required to make the perfect
vada
.Temper the
kadi pata
and add into the batter with the remaining ingredients. Pat into round shapes and using your thumb, make a hole in the centre.Start frying the
vada
immediately after. If you can't, then place the mixture in the fridge; never leave it outside. If the recipe has been well executed, the
vada
will be crisp, without any oiliness. Eat hot with coconut chutney.My biggest challenge has always been making the hole in the vada. The only way to ensure that this happens is to have a thick enough batter. Otherwise the vada will fry and taste delicious, but they will not hold the shape of the doughnut and devolve into a round
dahi vada
shape. Otherwise, you can buy pre-made batter everywhere and save yourself much of the effort.
Disclaimer:
The opinions expressed within this article are the personal opinions of the author. NDTV is not responsible for the accuracy, completeness, suitability, or validity of any information on this article. All information is provided on an as-is basis. The information, facts or opinions appearing in the article do not reflect the views of NDTV and NDTV does not assume any responsibility or liability for the same.