Chettinad ingredients; Image credit: Ashwin RajagopalanFiery! That's the impression you might have of Chettinad cuisine if you've dined at the countless Chettinad diners in Chennai or Bengaluru. Nothing is further from the truth. Chettiars are pained at how their unique cuisine has been played around with by these restaurants with spice levels that can numb your taste buds. Their pain is understandable; Chettinad cuisine is probably India's most evolved cuisine along with Lucknowi cuisine. Rooted in the heart of Tamil Nadu with ingredients that have been added as the Nattukottai Chettiars - one of the country's most enterprising trading communities, spread their wings across South East Asia.
The 70-odd villages that dot the arid belt between Ramanathapuram and Pudukottai in Tamil Nadu roughly make up the Chettinad region. Establishments like Bangala in Karaikudi - the brainchild of Meenakshi Meyappan, have led the way in a grand revival of authentic Chettinad cuisine. But to taste the finest Chettinad fare you need to be on the guest lists of a Chettiar wedding. Weddings menus always feature traditional kuzhambus (thick gravies) like the Pepper Kuzhambu or the unique Surul Meen Kuzhambu (cooked with steamed lentil dumplings) and sometimes also feature unusual varieties of the Tamil Nadu staple rasam. You might be served a Pineapple Rasam or an Elaneer (tender coconut) Rasam. There's also an elaborate tea menu; the Chettiars love their snacks like Aadi Kumayam (lentil and rice halwa) to Rangoon Puttu. Aside from Bangala and a few other venues in Chettinad, a fast diminishing band of Chettinad cooks (who usually cook at weddings in the region) are the finest exponents of the cuisine.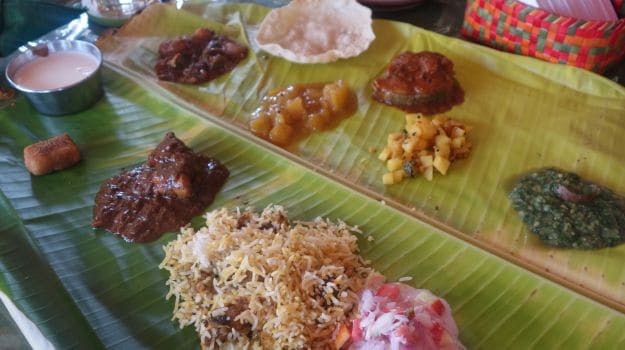 A traditional Chettinad meal; Image credit: Ashwin Rajagopalan
The Nattukottai Chettiars have long been one of India's most enterprising mercantile communities. The community's trading ties around
South East Asia
have shaped the distinct identity of this cuisine. The cooking style might be rooted in the heart of Tamil Nadu but is enriched by an unusual and exotic set of ingredients. Chettinad restaurants may douse generous amounts of chilli powder but any true blue Chettiar will tell you that it's the use of
karu milagu
(
black peppercorns
) that adds the milder, distinctive spice element. The pepper is added towards the end of the cooking process in many dishes as is the case with the region's signature
Chettinad Pepper Chicken
.
We pick ten ingredients that set Chettinad cuisine apart:
1. Star Anise
From being a key ingredient in the iconic Italian liqueur - Galliano, to being one of the integral spices in the traditional Vietnamese pho, this versatile spice adds an interesting dimension to Chettinad cuisine as well. Chettiars love their lamb and this spice is known to enhance the flavour of the meat when added into the curry.
2. Kadal Paasi (Sea lichen)
Madurai's own interpretation of the falooda and its most famous dessert - Jigarthanda, relies heavily on this ingredient. It's known by many names including China grass and agar agar. While it's normally associated with sweet dishes in other cultures, a pinch of kadal paasi is used as a flavouring agent in some versions of the Chettinad Mutton Curry (also referred to sometimes as the Kadal Pasi Curry) along with other spices.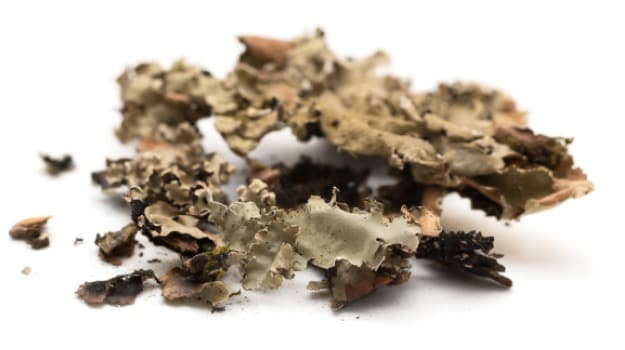 Kalpasi3. Marathi Moggu (Kapok Buds)
The dried buds of the silk cotton tree are best known for their use in Karnataka's Bisi Bele Bath. The kapok bud is one of the most used capers (edible flower buds) in India. It's a 'go to' spice for the modern version of the Chettinad-style biryani and is usually fried lightly to allow the flavours to come through.

4. Karu Milagu (Whole peppercorns)
It is the key ingredient in the Chettinad Milagu Kozhi Varuval (Pepper Chicken). This dish, like many Chettinad dishes, uses a 50:50 blend of chilli powder and freshly crushed peppercorns. The pepper is usually added towards the end of the cooking process to lend a fragrant flavour.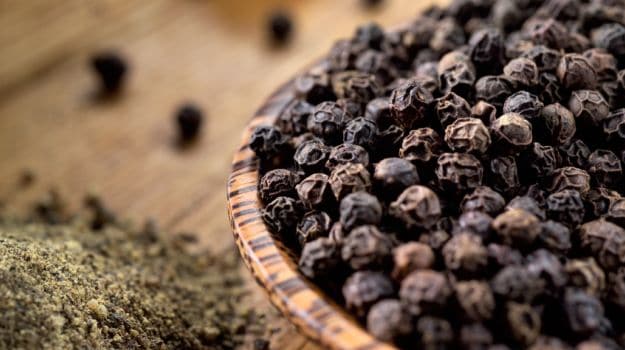 Black pepper5. Arisi Mandi (Rice water)
If you have ever cooked pasta you might know that the starchy water in which the pasta was cooked can be used as a flavour enhancer. It's the same principle for mandis except in this case the rice is not cooked. The rice is washed once and then soaked (typically two cups of water for 1 cups of rice) for 5-10 minutes. The rice water is then drained and used in combination with green chillies and garlic lending a distinctive flavour. These could be a mixed vegetable mandi or the more popular Vendakkai Mochai (okra and lima beans) mandi.

6. Sombu (Fennel)
One of the region's most scrumptious vegetarian dishes is the Kola Urundai Kozhumbu (steamed lentil dumplings in a gravy dominated by tamarind). This dish also uses a generous dose of fennel seeds, a spice that is used across India and in a variety of Chettinad dishes.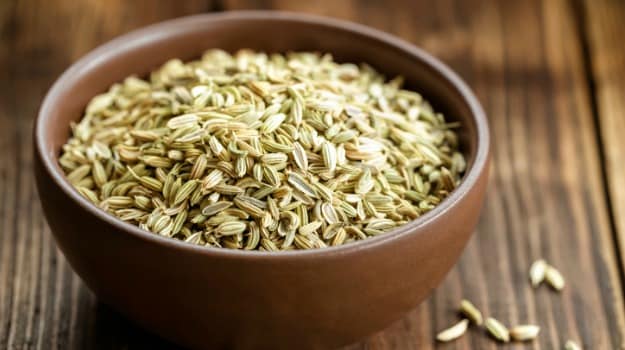 Fennel seeds

7. Thennai Kuruthu (coconut shoots)
Years ago, a podimas (scramble) made with tender coconut shoots was a delicacy at Chettinad weddings. This pale white disc is the part of the trunk which holds the coconut blossoms at its end. These shoots which are somewhere between sweet tender coconut and a mature coconut have become almost impossible to source, and are thus fast disappearing from wedding menus.

8. Karupatti Vellam (Black Jaggery)
Extracted from the date palm trees that are commonplace in Southern Tamil Nadu, this mild sweetener is rich in calcium and is believed to possess blood purifying properties. It is used to make some of the region's sweet delicacies like the Karupatti Paniyaram (sweetened dumplings with a delicious filling).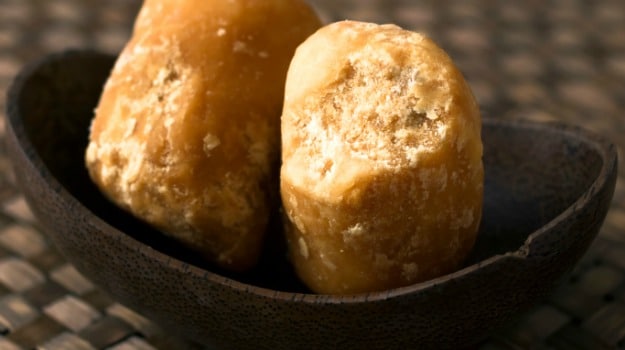 Jaggery9. Jathika (Nutmeg)
It is not as commonly used in the rest of Tamil Nadu as in Chettinad. Jathika is an essential ingredient in some of the region's best known meat dishes like the traditional Chicken Chettinad curry where it is combined with other fragrant spices like cinnamon and bayleaf during the cooking process.

10. Kavuni arisi (Black rice)
Evidence of the community's strong links with Burma, black rice is prevalent across South East Asian cultures where it has also earned the 'forbidden rice' moniker. A simple rice pudding is made using this rice, where it is soaked overnight, pressure cooked and tossed in ghee, sugar and a hint of cardamom. It is one of the best ways to end a Chettinad meal.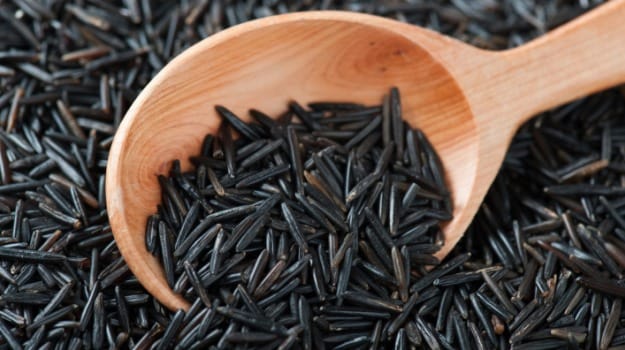 Black riceDisclaimer:The opinions expressed within this article are the personal opinions of the author. NDTV is not responsible for the accuracy, completeness, suitability, or validity of any information on this article. All information is provided on an as-is basis. The information, facts or opinions appearing in the article do not reflect the views of NDTV and NDTV does not assume any responsibility or liability for the same.
About Ashwin RajagopalanI am the proverbial slashie - a content architect, writer, speaker and cultural intelligence coach. School lunch boxes are usually the beginning of our culinary discoveries.That curiosity hasn't waned. It's only got stronger as I've explored culinary cultures, street food and fine dining restaurants across the world. I've discovered cultures and destinations through culinary motifs. I am equally passionate about writing on consumer tech and travel.