Ponram
Biryani
is possibly the best place in Dindigul for a traditional
biryani
cooked with small grain
seeraga samba
rice and lamb. But that's not the only reason why people flock to Ponram enroute to Kodaikanal from
Chennai
and
Bengaluru
. This local eatery also makes an Onion
Pachadi
(served as an accompaniment with the
biryani
) and it's the closest I've eaten to a Greek tzatziki in
India
. Finely chopped
onions
in curd so thick that it almost borders on hung curd. All over
South India
the
raita
as we know it in North India is an integral part of menus, more so in summer where a combination of curd with vegetables and ingredients are specially crafted to beat the heat.It's different from the
pachadi
(that usually refers to a dish that's pounded) although it uses the same suffix. The most famous of these is the Ugadi Pachadi (in Andhra, Telengana and
Karnataka
) that is an integral part of Ugadi celebrations with its six different flavours (from bitter to sweet) that signify the rollercoaster ride of emotions most people go through in any given year. Raw mango and neem flowers are the key ingredients for this dish.Thayir
Pachadi
in
Tamil Nadu
and
Kerala
or Mosarubajji in Karnataka, the South Indian version of the
raita
is also part of wedding and celebration meals. Along with a mildly spicy stir-fried
vegetable
(
poriyal
or
thoran
), the Thayir Pachadi provides a fine balance in a large banana leaf spread meal. It's not unusual for most home meals to include it as an accompaniment to rice with
sambar
or
rasam
.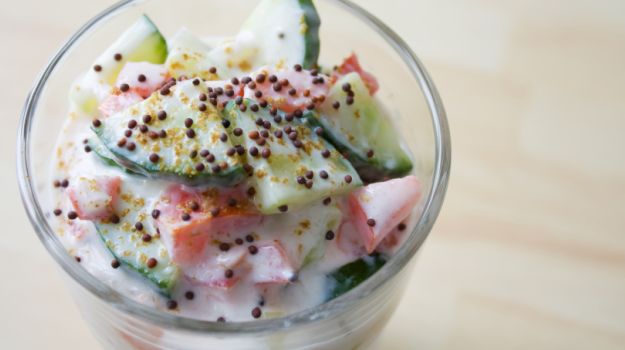 Almost all raitas across the South are cooked with a 'tempering' process.
In summer, most home
menus
incorporate ingredients like
cucumber
and ridge gourd to keep things cool.
We've collated a few recipes that are not just simple and perfect for the summer but also feature ingredients with health benefits.
1. Nellika Thayir Pachadi (Gooseberry Raita)
Packed with the goodness of
gooseberries
– a high source of Vitamin C and A. The combination of gooseberry and
fenugreek
makes it ideal for the summer. It's also a clever way to add gooseberry to your meal.
Ingredients:
3 gooseberries (large)
3 green chillies
1
ginger
(1/2 inch size)
½ cup coriander leaves, finely chopped
½ tsp urad dal
¼ tsp fenugreek seeds
1 cup curd
Salt to taste
Method:
1. Boil the
gooseberries
and de-seed them.
2. Roast (dry-fry) the urad dal and
fenugreek
seeds separately till they turn golden brown. Combine the two and add the ginger and the chillies to the mixer. Grind all the ingredients (including the gooseberries) in a blender and serve cold.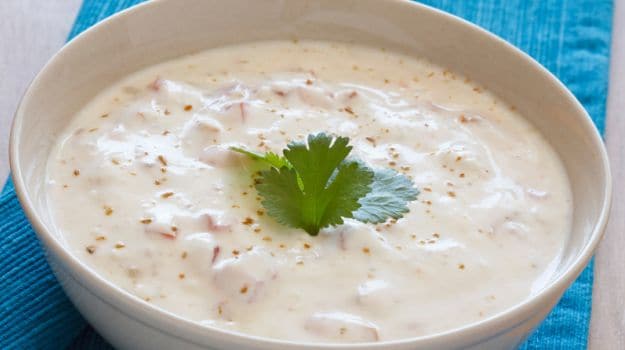 Goosebeery raita
2. Dangar Pachadi
A traditional recipe from the Thanjavur region in Tamil Nadu, this
raita
is actually cooked with
urad dal
powder. My grandmother used to make her own
appalams (papads)
with
urad dal
(typically in the summer) and some of the leftover
urad dal
powder would get used in this nutritious
raita
.
Ingredients:
1 Tbsp urad dal powder
2 green chillies
½ cup
coriander
leaves, finely chopped
1 Tbsp
coconut
, finely grated
1 cup curd
Salt to taste
¼ tsp mustard seeds
¼ tsp Bengal gram
¼ tsp urad dal
¼ tsp asafoetida
1 red
chilli
, dried
1 tsp ghee
Method:
1. Grind the
coriander
, green chilli and
coconut
.
2. Add the above ingredients to the curd and whisk it well.
3. Add the urad dal powder to the mix and make sure there are no lumps
4. Fry the chilli (crush the chilli), mustard, urad dal, Bengal gram and asafoetida in the ghee and add it to the mix.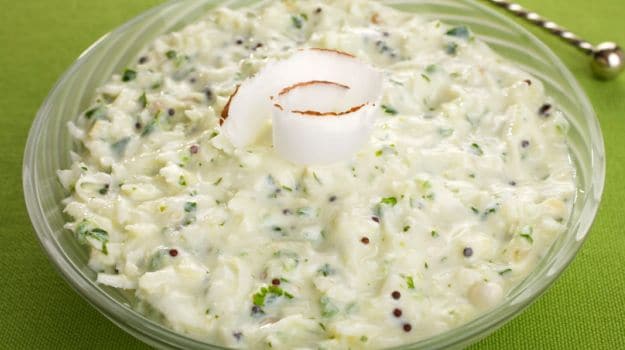 Dangar Pachadi
3. Beetroot Pachadi
Recipe courtesy: Aji Joseph – Corporate Chef, Ente Keralam restaurant
A curd-based
pachadi
is a quintessential part of any Sadya (Plantain leaf celebration meal) in Kerala. The
beetroot
lends more colour than flavour to this
raita.Ingredients:
1 beetroot, grated
¼ tsp turmeric powder
2 cups curd, beaten
7 green chillies
1 tsp mustard seeds
1/2 cup
coriander
leaves, finely chopped
2 cups coconut, finely grated
1 ginger (1/2 inch piece)
1/4 tsp cumin seeds
4 Tbsp water
Salt to taste
1 Tbsp coconut oil
1 shallot, large, sliced
Curry leaves: 2 sprigs
Method:
1.Clean the beetroot, grate it and keep it aside.
2. In a pan cook the grated beetroot, salt,
turmeric
powder, 1 tablespoon water with the lid closed. Stir in between.
3. Meanwhile in a mixer, grind ½ tsp mustard seeds,
cumin
seeds, grated
coconut
, ginger and green chillies into a paste by adding 3 tablespoons water.
4. Once the beetroot is cooked (softened) well, transfer the ground paste to the pan and stir well.
5. Cook the ingredients for another 5 minutes in medium flame till the water dries off.
6. Beat the
curd
in a bowl and keep it aside.
7. Transfer the beaten curd to the pan and warm it (do not allow it to boil). Turn off the flame.
8. In a pan, heat the oil and crackle
mustard seeds
, shallots and curry leaves and add on to the cooked curd and beetroot mixture.
9. Check for salt and serve.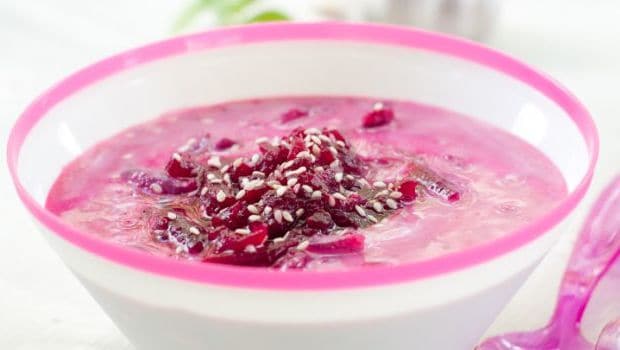 Beetroot Raita
4. Majige Chaaru
This is my favourite Andhra-style
raita
and literally translates to spiced
buttermilk
. It doesn't just make a perfect accompaniment with a rice-heavy meal but also tastes delicious with
rotis
and looks similar to a North Indian style
kadhi
.
Ingredients:
Onion (Large): 1
Tomato (Small): 1
Mustard seeds: ¼ teaspoon
Urad Dal: 1 teaspoon
Cumin seeds: ¼ teaspoon
Turmeric
powder: 1/4 teaspoon
Green chillies: 2
Curry leaves: 2 sprigs
Curd: 1 cup
Cooking oil: 1 tablespoon
Salt: to taste
Method:
1. Fry (temper)
mustard
seeds, cumin, urad dal, curry leaves and green chillies (add one ingredient at a time).
2. Add onions and sauté till the onions are half cooked.
3. Add the tomato and sauté for a few minutes.
4. Add the turmeric, salt and keep aside (in a closed dish).
5. Add the
curd
and whisk just before you serve.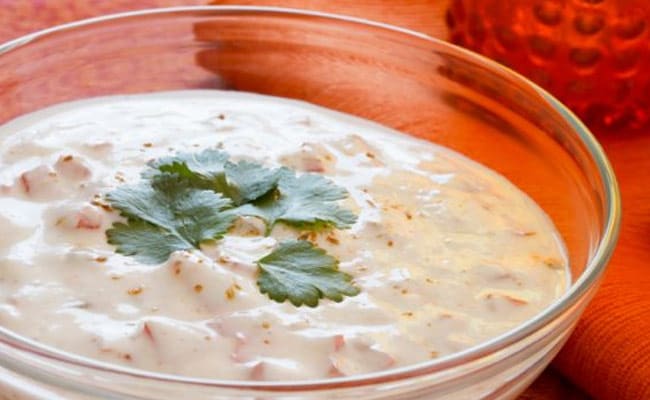 Majige Charu Raita
5. Roasted Tomato and Capsicum Raita
I was pleasantly surprised to discover this
raita
at a new vegetarian restaurant in Chennai set up by a wedding caterer. This
raita
is usually served at Tamil Brahmin weddings and makes a great accompaniment with
bisi bele bath
(
sambar satham
) or coconut rice.
Ingredients:
Ripe red tomatoes – 2 (large)
Capsicum
– ½
Grated Coconut – ¼ cup
Red chilly powder – 1 teaspoon
Jeera – 1 teaspoon
Salt – to taste
For tempering:
Coconut oil – 1 teaspoon
Mustard seeds
Channa dal
Urad dal
Curry leaves
Method:
1. Grind the
coconut
, jeera, salt and red chilli powder to a fine paste. Keep it aside
2. Roast the
tomato
and capsicum with very little oil ill they turn soft
3. Temper the other ingredients in coconut oil
4. Mix all the ingredients with the curd.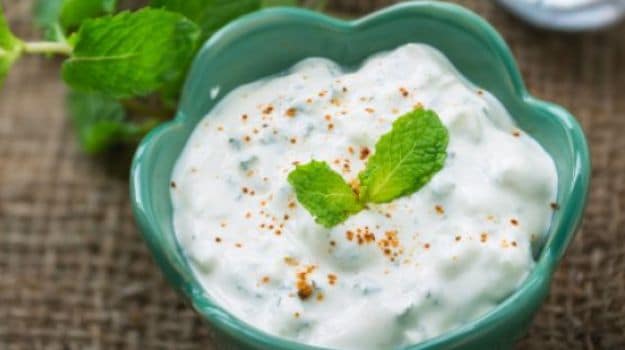 Roasted Tomato and Capsicum Raita
About the Author:
Ashwin Rajagopalan is a cross cultural training expert and lifestyle writer. When he's not writing about food, he thinks about gadgets, trends and travel experiences. He enjoys communicating across cultures and borders in his weekday work avatar as a content and editorial consultant for a global major and one of India's only cross cultural trainers.
Disclaimer:
The opinions expressed within this article are the personal opinions of the author. NDTV is not responsible for the accuracy, completeness, suitability, or validity of any information on this article. All information is provided on an as-is basis. The information, facts or opinions appearing in the article do not reflect the views of NDTV and NDTV does not assume any responsibility or liability for the same.
About Ashwin RajagopalanI am the proverbial slashie - a content architect, writer, speaker and cultural intelligence coach. School lunch boxes are usually the beginning of our culinary discoveries.That curiosity hasn't waned. It's only got stronger as I've explored culinary cultures, street food and fine dining restaurants across the world. I've discovered cultures and destinations through culinary motifs. I am equally passionate about writing on consumer tech and travel.