Rye Whiskey: Spreading Festive Cheer
Robert Simonson, The New York Times | Updated: July 12, 2017 13:30 IST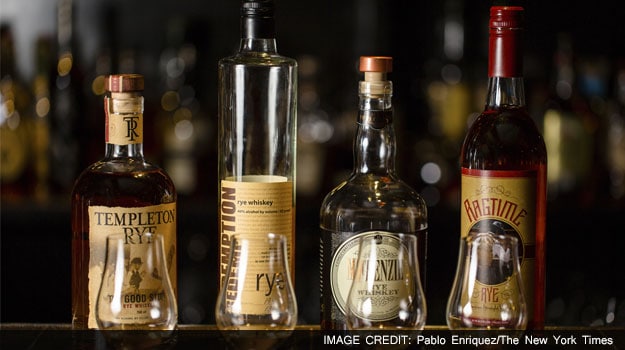 Three men sitting in a Midtown Manhattan restaurant one recent afternoon represented three generations of the Kentucky clan whose hand has been on the tiller of the Wild Turkey distillery for more than half a century. There was Jimmy Russell, the legendary distiller; Eddie Russell, his son, a veteran distiller in his own right; and Bruce Russell, Eddie's 26-year-old son, a relatively new addition to the firm.

As their drinks arrived, Eddie Russell introduced each man's poison. "Bourbon! Bourbon!" he said, pointing to his father's glass, then his own. Finally, he alighted upon his son's tumbler. "Rye!"

His point: Rye whiskey, once an old man's drink, is now a young person's drink.

"I've always preferred rye," Bruce Russell said in an interview. "I don't really have a big sweet tooth. It's dry and spicy. In my opinion, it's a lot more complex. Unlike Dad and Jimmy, I really enjoy cocktails. Not just bourbon on the rocks."

As other families assemble this month, they may experience the same kind of generational disconnect. If they opt for rye at home, at the bar or under the tree, the benefit is twofold. First, the whiskey is a versatile choice for all kinds of drinks, classic and modern. And second, if it's an authentic old-fashioned American Christmas you're after, you can't do better than rye. There was a bottle on many an old Yankee's holiday table. Kevin Hooshangi
Rye's comeback is nothing new. The whiskey — which is by legal definition distilled from a minimum of 51 percent rye (bourbon is distilled from at least 51 percent corn) — has been on the road to recovery for nearly a decade.

But what is remarkable is that rye continues to rise higher than anyone expected. What was once an interesting trend may actually become a long-term adjustment in American drinking habits.

"There's a cultural shift that's happening," said Dave Pickerell, a distiller who has a hand in many of the most popular new rye brands, including WhistlePig and Hillrock. "The American palate is moving from sweet to savory. That means a move from bourbon to rye. And there's also a movement toward taste being important. And that means a shift from vodka to rye."

In August, the Distilled Spirits Council of the United States, a trade group, released a study showing that rye sales had risen significantly from 2009 to 2014, growing to more than 561,000 nine-liter cases from just over 88,000.

When Kevin Hooshangi and his partners opened the bar American Whiskey in Manhattan in 2013, they knew healthy rye sales would be part of their success. But they didn't know how much.

"There's the change we anticipated, and the change that has actually happened," Hooshangi said. "We thought people would drink rye — mainly overproof rye and in cocktails. What I'm seeing more of is people ordering expressions neat, with one rock at the most."

Hooshangi snatches up every new rye he can get his hands on, but it's never quite enough. Whatever the label, men and women from their mid-20s to mid-40s guzzle it down. "I don't know how they're finding out about" each new brand, he said.

A decade or so ago, a bar looking to carry every rye on the market would have stocked just a few, most prominently Jim Beam Rye, Old Overholt (also made by Beam) and Wild Turkey Rye. You could find them on the bottom shelf at the liquor store, enjoying plenty of peace and quiet.

Today there are dozens of brands. Some of the earliest new ryes were put out by microdistilleries, which responded to purist bartenders' desire to make classic cocktails like the manhattan and old-fashioned as they originally were: with rye.


While small distillers continued to roll out rye — Ragtime Rye, from the New York Distilling Company, is one of the latest — a good number of the major releases of 2015 have come from big producers, including Heaven Hill (Pikesville Straight Rye), Wild Turkey (Russell's Reserve Single Barrel Rye) and Brown-Forman (Woodford Reserve Kentucky Straight Rye).

What took them so long? Well, it's whiskey. Good whiskey takes years to make. And, as whiskey writer Chuck Cowdery observed, the rye boom was "not something anyone could have predicted."

Pickerell said the large producers failed at first to notice rye's resurgence. "It was the little guys who made it," he said. "The big guys realized in 2008 and they started making it. But they didn't lay up enough in 2008, barely laid up enough in 2009. We're just starting to see the front end of all the whiskey the big guys are putting out."

Wild Turkey once devoted just two days a year to distilling rye. "Now we do two days a month," Bruce Russell said.

There may be an element of cynicism surrounding the youthful embrace of rye: the idea, as Cowdery put it, that "becoming a rye drinker is a way to differentiate yourself from bourbon drinkers, the hipsters who absolutely have to be on the bleeding edge." But, he felt compelled to add, "Also, people like it."

Bleeding-edge hipsters and edgeless oldsters alike will enjoy it in a manhattan or old-fashioned, classic cocktails that have served as preludes to Christmas feasts since the late 19th century. To be extra festive, top your manhattan with an ounce of chilled Champagne and you've got a Boothby cocktail. Or try the Deathbed Manhattan recipe, so named because its creator says it's the ultimate version.

If it's nippy outside, add a tablespoon of sugar or honey, a quarter of an ounce of lemon juice and 2 ounces of rye to a warmed mug, and top with boiling water to taste. The resulting hot toddy will top off a meal nicely.

Deathbed Manhattan
Yield: 1 drink Ingredients:
2 ounces rye whiskey, preferably Ragtime
1/2 ounce Punt e Mes vermouth
1/2 ounce Martini & Rossi sweet vermouth
2 dashes Angostura bitters
1 maraschino cherry, for garnish

Combine all the liquid ingredients in a mixing glass three-quarters filled with ice, and stir until chilled, about 30 seconds. Strain into a chilled coupe glass. Garnish with cherry.

© 2015 New York Times News Service