Story Progress
Back to home
Achaari Baingan Recipe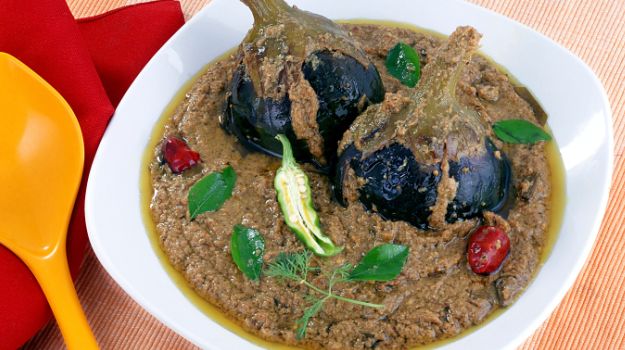 How to make Achaari Baingan
About Achaari Baingan Recipe: Here we cook some fabulously tangy and spicy achaari baingan. Baby eggplants slit, deep fried, stuffed with a tangy masala and tossed. Pair his baingan recipe with hot and piping parathas and you'll have a delectable, complete lunch to gorge on with the family.

Ingredients of Achaari Baingan
8 baby aubergines (small sized baingan, slit), lightly dabbed on the inside with some salt and turmeric powder
To deep fry oil
For the masala:
2 tbsp coriander seeds (dry roasted)
1 tbsp saunf (fennel seeds, dry roasted)
1 tsp zeera (cumin) seeds (dry roasted)
1 1/2 tsp methi daana (fenugreek seeds)
2 tsp white mustard seeds
1/2 tsp black onion seeds
1/2 tsp ajwain (carom seeds)
4 tsp amchoor (mango powder)
1/4 tsp turmeric powder
to taste red chilli powder
To toss the aubegines:
5 tbsp mustard oil
2 bay leaves
3-4 cloves
1 tsp heeng (dissolved in 2 Tbsp water)
to taste salt
1.
Slice the aubergines into four leaving them attached only at the stem. Lightly dab the brinjal on the inside with some salt and turmeric powder. Deep fry.
2.
In a pan dry roast coriander seeds, saunf and zeera. Grind these with all the other masalas on the ingredient list.
3.
Stuff the deep fried aubergines with this masala. Keep aside.
4.
In a kadhai / wok, take mustard oil, add bay leaves, cloves and heeng water.
5.
Add the stuffed aubergines. Toss.
6.
Sprinkle some salt according to taste. Toss. Serve.