Story Progress
Back to home
Banarasi Dum Aloo Recipe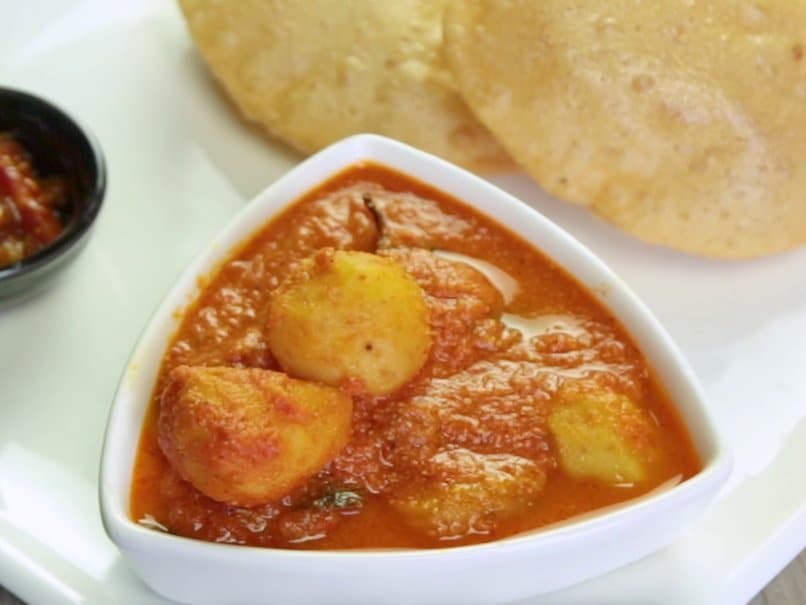 How To Make Dum Aloo
NDTV Food
About Banarasi Dum Aloo Recipe: The delicious Banarasi Dum Aloo is one of the most coveted potato curry in the Indian menu. Baby potatoes sauteed between spices and herbs, giving a satiating aroma all around. This dish is mainly tomato based curry and is not very rich in flavor.The perfect quickie when unexpected guests come over, easy and quick with no special ingredients required.

Ingredients of Banarasi Dum Aloo
1 Tbsp khus khus
1 cup oil
17-18 baby potatoes, peeled
2 tbsp oil
1 Bay leaf
1 cup tomato puree
1 tsp salt
1/2 tsp turmeric powder
1 tsp red chilli powder
1 tsp turmeric powder
1 tsp coriander powder
1/2 tsp garam masala
2 Black cardamom (Crushed)
1.
Soak and grind the khus khus. 2.
Take peeled and pricked baby potatoes in a pan full of hot oil. 3.
Deep fry them until golden brown. 4.
Take oil in a pan and saute bay leaf. 5.
Add tomato puree to the pan. 6.
Bring it to simmer and add the khus khus paste. 7.
Mix it well. Add salt, turmeric powder, red chilli powder, coriander powder and garam masala. 8.
Mix well and bring to simmer. 9.
Add fried baby potatoes to the gravy and mix well. 10.
Transfer it to pressure cooker.
11.
After it is cooked, add crushed black cardamom and mix well. 12.
Serve hot. Recipe Notes
This Dum Aloo preparation uses baby potatoes which are easier to cook. You may use medium sized potatoes, each cut into 2, if you do not find baby potatoes.
Watch the step by step recipe of Banarasi Dum Aloo here: