Story Progress
Back to home
Aloo Tikki Recipe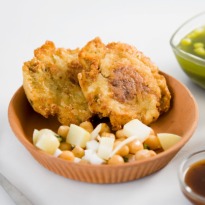 One of the favourite street food of India. Boiled potatoes are mashed and mixed with a melange of aromatic spices, daal and other condiments baked lovely or fried to perfection.

Ingredients of Aloo Tikki
2 kg boiled potatoes
150 gm arrowroot - for binding
Oil - for shallow frying
2 Tbsp yogurt
2 Tbsp coriander
Chilli chutney
2 Tbsp tamarind chutney
For the filling:
200 gm moong daal
100 gm peas
100 gm cashew nuts
2 tsp cumin seeds
100 gm melon seeds
Salt
Turmeric
Red chilli to taste
1.
Soak the moong daal for half an hour. Then mix cumin and grind it in a machine. Roast it in a little oil.
2.
Now add peas, cashewnuts, melon seeds and cumin.
3.
Add salt, red chilli and turmeric according to taste.
4.
Mash the boiled potatoes and mix in the arrowroot.
5.
Now make them into a round shape for tikkis.
6.
Further fill the potatoes with the pulse mixture and shallow fry in a pan or bake in the oven.
7.
Now top the tikkis with the two chutneys and yogurt and serve.