Story Progress
Back to home
Apple Cinnamon Muffins Recipe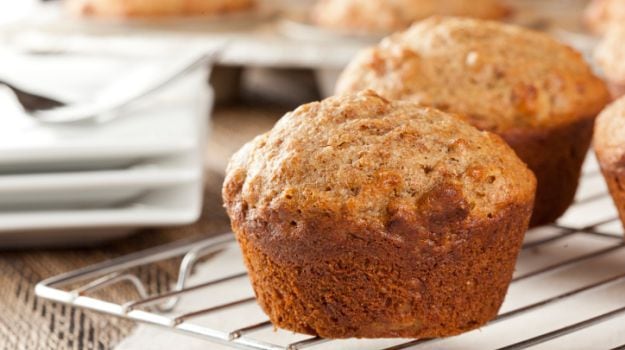 How to make Apple Cinnamon Muffins
About Apple Cinnamon Muffins Recipe: These muffins are great for breakfast on-the-go or as a mid-day snack. The apples add a rich, sweet-tart, spicy flavor.
Total Cook Time

1 hr 10 mins

Ingredients of Apple Cinnamon Muffins
3 Cups all-purpose flour
1-3/4 cups sugar
3-1/2 tsp baking powder
1/2 tsp salt
1/2 tsp orange zest, grated
1/4 tsp ground nutmeg
1 cup butter or margarine
1 cup apples (cored and grated), peeled
8 oz low fat vanilla yogurt
2 large eggs (beaten)
1 tsp ground cinnamon
1.
Pre-heat oven to 350 F (180 C).
2.
Grease 24 3-inch (7.5-cm) muffin pan cups or line with paper liners.
3.
In large bowl, combine flour, 1 cup sugar, baking powder, salt, orange zest and nutmeg.
4.
With pastry blender or fork, cut in 3/4 cup (175 mL) butter until mixture is crumbly.
5.
In medium bowl combine apple, yogurt and eggs.
6.
Add to flour mixture, stirring until just combined. Spoon batter into prepared muffin cups and bake 20 to 25 minutes or until centres spring back when gently pressed.
7.
Cool muffins in pan 5 minutes.
8.
Remove from pan and cool until able to handle.
9.
Meanwhile, melt remaining butter.
10.
In small bowl, combine remaining 3/4 cup sugar and cinnamon.
11.
To serve, brush tops of muffins with butter and roll top in cinnamon-sugar mixture