Story Progress
Back to home
Asparagus Quiche Recipe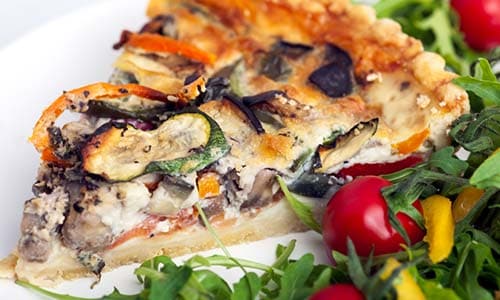 About Asparagus Quiche Recipe: A creamy asparagus quiche with a crispy crust. It's a perfect Sunday brunch dish.
Total Cook Time

1 hr 25 mins

Ingredients of Asparagus Quiche
250 gms flour
1/2 tsp salt
150 gms butter
1 Egg yolk (mixed with 2 Tbsp iced water)
For asparagus filling:
110 gms tinned asparagus or a fresh bunch
100 gms cheese, grated
3 Eggs
1/2 cup milk
1/2 cup cream
1 tsp mustard powder
to taste salt and pepper
Beans to bake blind
1.
In a large bowl sift the flour and salt.
2.
Add the diced butter and cut the butter into the flour until the mixture resembles large breadcrumbs.
3.
Add the yolk mixture and make dough. Wrap the dough and chill for half an hour.
4.
Roll out the dough on a floured surface and place it in a dish.
5.
Line the pastry with foil and then fill it with beans and bake blind for 15 minutes in a preheated oven. Remove from the oven, discard the foil and the beans and keep aside.
6.
Sprinkle some of the grated cheese on the half baked pastry arrange the asparagus on the dish.
7.
Mix the eggs, milk, cream, mustard powder, salt and pepper and pour over the asparagus, sprinkle the remaining cheese over the quiche and bake for about 35 minutes or till done.