Story Progress
Back to home
Avocado Coconut Curry Recipe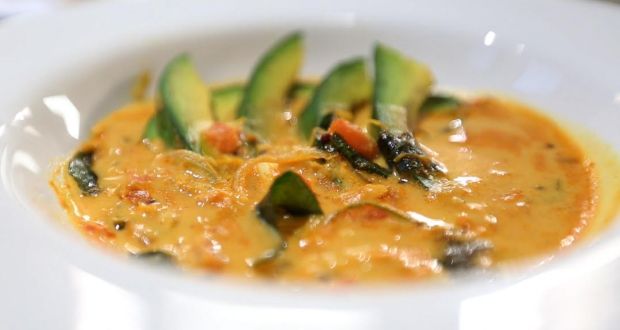 Avocado Coconut Curry
An easy to make coconut curry with the added goodness of avocado and a burst of flavours.

Ingredients of Avocado Coconut Curry
2 Tbsp coconut oil
2 dried red chillies
1 tsp methi seeds
1 tbsp mustard seeds
1 onion
4-5 garlic cloves
1 ginger
1 green chilli
2 stems curry leaves
1 tsp turmeric powder
1 tsp red chilli powder
1 tbsp dhaniya powder
1 tomato
1 cup coconut milk
1 tsp rice flour
1 avocado
1 tsp tamarind paste
2.
Add dry red chillies, methi seeds & mustard seeds.
3.
Saute onion, garlic cloves, ginger, green chilli & curry leaves.
4.
Add turmeric, red chilli, dhaniya powder, tomato & coconut milk.
5.
Add some water to avoid burning the spices.
6.
Take rice flour in a bowl, mix with water and add to the curry.
8.
Place chopped avocado in a plate and pour the curry over it.