Story Progress
Back to home
Ayam Goreng Recipe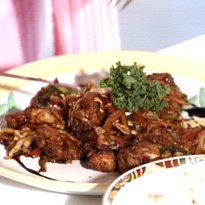 How to make Ayam Goreng
Ayam Goreng is a type of Indonesian fried chicken recipe. Chicken tossed with veggies, mingled in sambhal paste and soya sauce.

Ingredients of Ayam Goreng
1 Cup Boneless Chicken(boiled with lemongrass and water)
2 Tbsp Onion, chopped
1 tsp Garlic, chopped
1/2 Cup Vegetables (carrot, cabbage, bok choy, tomato, capsicum, diced)
1/2 Cup Chicken Stock
1 tsp Sambal Paste (a chilli based sauce used in Indonesian cuisine)
1 Tbsp Sweet Soya Sauce
To taste Salt
To taste Pepper
Oil
To garnish Fried Onions
To garnish Parsley
1.
Heat oil in a pan and fry the chicken.
2.
Once done, keep the chicken aside.
3.
Now add the vegetables in a pan, saute and then add the stock. Mix well.
4.
Add the sambal paste and soya sauce. Cook for few minutes.
5.
Season with salt and pepper.
6.
Add the chicken to this mixture and mix well.
7.
Serve garnished with sweet soya sauce, fried onions and parsley.
Key Ingredients: Boneless Chicken(boiled with lemongrass and water), Onion, Garlic, Vegetables (carrot, cabbage, bok choy, tomato, capsicum, diced), Chicken Stock, Sambal Paste (a chilli based sauce used in Indonesian cuisine), Sweet Soya Sauce, Salt, Pepper, Oil, Fried Onions , Parsley