Story Progress
Back to home
Baby Lobster in White Sauce Recipe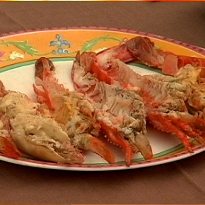 Lobster, boiled and then finished in an oven, served with simple white sauce

Ingredients of Baby Lobster in White Sauce
2-3 baby lobsters (with the shell)
3 Tbsp butter
1 Cup Milk
2 Tbsp cheese bread crumbs
Salt - to taste
pepper - to taste
1.
Wash the lobster thoroughly and boil for 5-7 minutes along with the shell.
2.
Cut one side of the shell lengthwise in half and remove the meat.
3.
Cut the meat into small pieces. Clean and wash the shell again and keep aside.
4.
For the white sauce, heat butter in a pan. Sprinkle the flour and stir on low heat for 1-2 minutes.
5.
Pour the milk in it and stir continously to avoid lumps. Mix in the cheese, add salt and pepper.
6.
Continue to stir till it turns into a smooth paste.
7.
Fill the clean shells with this mixture. Sprinkle the bread crumbs on top and bake in a hot oven for about 5 minutes. Serve hot as a starter.