Story Progress
Back to home
Bajra Tartlets With Fruit Custard Recipe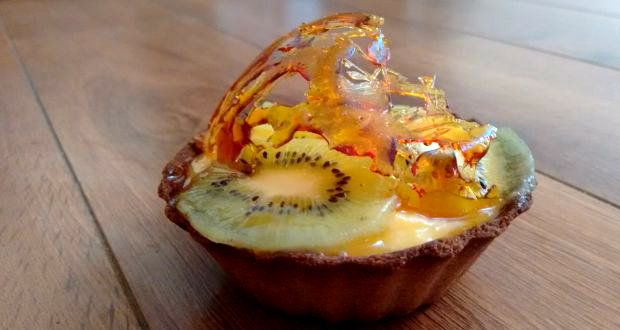 How to make Bajra Tartlets With Fruit Custard
About Bajra Tartlets With Fruit Custard Recipe: These pretty little tartlets come with the goodness of bajra. You can fill them up with any creamy delight of your choice, such as cream cheese. Top them up with fruits and serve them as tea-time treats.
Total Cook Time

1 hr 05 mins

Ingredients of Bajra Tartlets With Fruit Custard
For tartlets:
1/2 cup bajra flour
1/2 cup wheat flour
1 tbsp caster sugar
A pinch of salt
75 gms cold butter (cut into cubes)
1 egg yolk
For filling:
3 tbsp custard powder
500 ml milk
1/4 cup sugar
1 mango (cut into cubes)
1 kiwi, sliced
1 tbsp honey
1.
Pre-heat the oven at 100 degree C. Grease 8 tartlet moulds with a little oil and keep aside.
2.
In a mixing bowl, sift together bajra flour, wheat flour, sugar and salt.
3.
Add the cubes of cold butter and rub with your fingertips until the mixture resembles bread crumbs.
4.
Add the egg yolk and a little cold water to form a dough. Do not knead it too much. Quickly cover with a cling-film and keep it in the refrigerator for 30 minutes.
5.
Divide the dough into 8 small balls. Roll out each using a rolling pin to form discs and place them into the tartlet moulds. Press with your fingers gently to ensure that the dough even covers the mould.
6.
Prick the base of the dough with a fork and bake in the oven at 150 degree C for 10-15 minutes until golden and crisp. Remove from the oven and let it cool.
7.
In the meantime, warm milk in a saucepan. Take 1/4 cup of warm milk in a glass and add custard powder to it. Stir well and pour it into the saucepan while stirring the milk continuously. It will start to thicken.
8.
Add sugar and continue stirring until the custard is dense and comes off from the edges. Remove from the flame and add in the mangoes.Mix well.
9.
Pour the custard into the tartlets and even out the surface. Let it set.
10.
Once cooled, decorate with kiwi slices and drizzle with honey on top.