Story Progress
Back to home
Baked Thai Chicken Recipe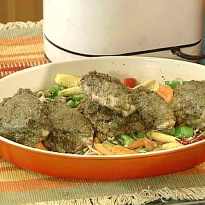 Assorted veggies served with zesty chicken.

Ingredients of Baked Thai Chicken
1 chicken with skin cut into 8 pieces
For the marinade:
2 stalks lemon grass-chopped
1
3 tsp chopped garlic
1 chopped onion
3 Tbsp chopped coriander stems
1 Tbsp grated jaggery
120 ml coconut milk
2 Tbsp fish sauce
2 Tbsp soya sauce
Mixed vegetable base:
2 Tbsp oil
1-2 whole red chillies
2 Tbsp spring onions-cut into 1
1/2
1 chopped capsicum
100 gm bean sprouts
100 gm baby corn
2 sliced tomatoes
2 peeled and sliced carrots
2 Tbsp beans
Salt and pepper
1 tsp sugar
6 Tbsp vegetable/chicken stock
Garnish with:
Lemon wedges and sliced red chillies
1.
To make the marinade, blend all ingredients together.
2.
Pour over the chicken pieces and leave for 3-4 hours.
3.
Bake chicken on rack over a baking tin at 200 C for 25 minutes. Baste regularly with marinade.
To prepare the vegetables:
1.
Heat the oil in a large pan. Stir-fry chillies, spring onions and ginger for 1 minute.
2.
Add remaining vegetables and fry for 2 minutes.
3.
Season well, sprinkle on the sugar and pour in the stock.
4.
Serve with the chicken, garnished with lemon wedges and red chillies.