Story Progress
Back to home
Balinese Chicken Recipe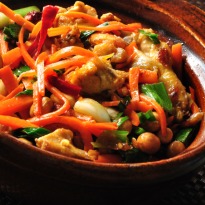 How to make Balinese Chicken
Try out this traditional chicken recipe with flavors from Bali. Boneless chicken leg meat cooked in lemongrass, stock, sweet soya and a variety of vegetables.
Total Cook Time

1 hr 10 mins

Ingredients of Balinese Chicken
Meat from chicken legs
1/2 inch ginger
6-8 leaves of lemongrass
3-4 bulbs of garlic
1 onion, sliced
8-10 bokchoy leaves
20 gm cabbage, sliced
1 carrot, chopped
Green, red and yellow peppers, sliced
Stock (either veg or non-veg)
Chili paste
Sweet soya
Fried charlocks
Few parsley leaves
1.
Firstly, the meat needs to be taken from chicken legs and boiled in water containing ginger, garlic and lemongrass. This enables the chicken to gain flavor.
2.
Once the chicken is boiled, it is deep fried until it attains a nice crispy golden brown color and texture.
3.
Now add a little oil to a pan and pour some onions and garlic paste once the oil has heated. Stir well.
4.
Now add bokchoy, cabbage, carrots, green, red and yellow peppers. Keep stirring on a low flame.
5.
Add whichever stock you have, but not more than half a bowl. Continue stirring.
6.
Add 1 tsp of red chili paste and 1/4th bowl of sweet soya. Continue stirring until the veggies turn a little dark in shade.
7.
Once the veggies have cooked well and turn a bit dark, you may add the chicken. Add salt and pepper.
8.
Cook for a few more minutes, sprinkle a few fried charlocks and parsley leaves on top and voila!