Story Progress
Back to home
Banana Halwa Recipe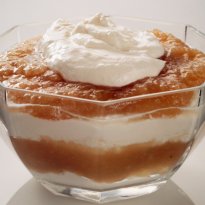 How to make Banana Halwa
Four ingredients, one spectacular result! Enjoy this easy to make tasty banana halwa recipe.

Ingredients of Banana Halwa
6 ripe bananas
1 cup ghee
1 cup sugar
1 tsp cardamoms (chhoti elaichi), powdered
1.
Peel the bananas and slice into 1 inch rounds.
2.
Heat the ghee and add the bananas.
3.
Saute till bananas are a little soft (some pieces may get mashed a bit).
4.
Add sugar and enough water to cover the banana mixture.
5.
Cook over low heat till the liquid thickens when you lift it and drop, it should fall in drops and not a stream.
6.
Add the cardamom powder, cool, chill and serve.
7.
This will thicken as it cools.