Story Progress
Back to home
Banana Split Recipe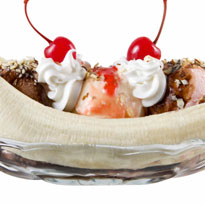 How to make Banana Split
A banana split is an ice cream dessert with the goodness of bananas. Warm sauce made out of condensed milk and chocolate drizzled over the bananas and ice cream. It is served in a long dish called a boat.

Ingredients of Banana Split
1 Square Chocolate - semi-sweet
2 Tbsp Light Corn Syrup
2 Tbsp Condensed Milk
1/8 tsp Vanilla Essence
1 Tbsp Peanuts (unsalted), roasted
1 Small Banana (quartered0
1.
Micro-cook the chocolate on Hi for 2 minutes, stirring once.
2.
Also stir in corn syrup and sweetened condensed milk.
3.
Micro-cook again uncovered on Hi for 30-45 seconds.
5.
Serve warm atop ice cream and sprinkle some peanuts. Arrange the quartered banana around ice cream.