Story Progress
Back to home
Battered Vegetables with Thai sauce Recipe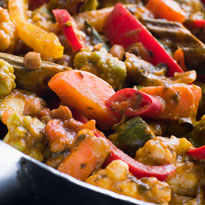 How to make Battered Vegetables with Thai sauce
Crispy deep fried vegetables served with a freshly made Thai sauce.

Ingredients of Battered Vegetables with Thai sauce
1 kg assorted vegetables cut into medium sized pieces
Flour to dust
Oil for frying
For the batter:
2 egg yolks
300 ml iced water
225 gm flour
1 tsp salt
For the Thai sauce:
1 Tbsp oil
1 Tbsp fish sauce
2 tsp shredded garlic
1 tsp chopped ginger
3 chopped red chillies
1 Tbsp chopped coriander stems
4 tsp sugar
3 Tbsp soya sauce
Juice of 1 lemon
1.
Combine egg yolks, flour, water and salt. Stir well to make a smooth batter.
2.
Dust the vegetables with flour before dipping into the batter.
3.
Deep fry in oil until crisp and golden.
For the sauce:
1.
Heat oil in a pan. Add fish sauce, ginger and chillies. Sauté until soft. Remove from the heat. Add coriander, sugar, and soya sauce and lemon juice.
2.
Serve the sauce along with battered vegetables