Story Progress
Back to home
Bean Club Sandwich Recipe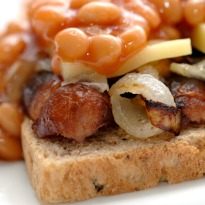 Toasted bread topped with baked beans, bacon strips and lettuce for a hearty breakfast. You can also add in a boiled egg a protein boost.

Ingredients of Bean Club Sandwich
1 can baked beans
3 tsp Worcestershire sauce
1/2 cup chopped spring onions
8 strips bacon-cut into halves
Lettuce leaves
24 slices toasted bread
1.
Mash the baked beans with a fork. Add the onions and the Worcestershire sauce, and mix well.
2.
Fry the bacon until it turns crisp.
3.
Arrange the lettuce leaves and the bacon on the toast.
4.
Cover with a second slice of toast.
5.
Spread with bean mixture.
6.
Cover with a third slice of toast.
7.
Cut diagonally and garnish with spring onions and serve.