Story Progress
Back to home
Beer Batter Fish Fingers Recipe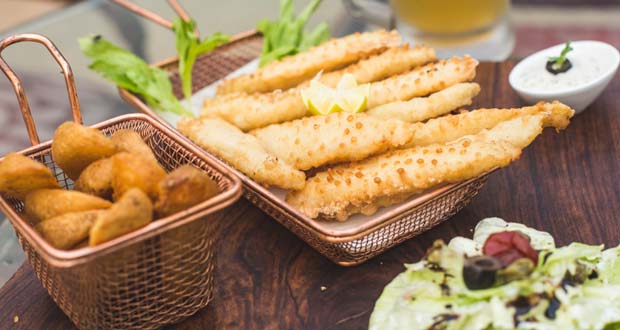 How to make Beer Batter Fish Fingers
NDTV Food
Marinated in beer these boozy fish fingers are a delight for light and crisp snacking.

Ingredients of Beer Batter Fish Fingers
300 Gram River Sole Fish (cut in thin strips)
1 tsp Garlic Paste
to taste Salt
1 Lime Juice
3/2 cup Beer
1 cup Flour
1/4 cup Cornflour
1 tsp White Pepper
2 Eggs
1/2 tsp Mustard
1.
Take a bowl and combine floor with all the ingredients.
2.
Now stir eggs and beer in the bowl until a thin batter is formed.
3.
Dip the fish fingers for half an hour, keep aside. You should be able to see the fish through the batter.
4.
Heat oil and dip fish fingers into the batter then drop one at a time into hot oil , turning once until both sides are golden brown.
5.
Drain on towel pepper and serve with lime tarter sauce.