Story Progress
Back to home
Beer Battered Mushrooms Recipe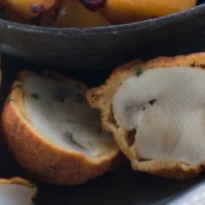 A smooth batter with an unexpected addition: Beer. Mushrooms stuffed with a flavorful mixture of onions and garlic, coated with a beer based batter and deep fried till crisp and golden.

Ingredients of Beer Battered Mushrooms
Filling:
300 gm mushrooms without stalks
1 tsp butter
2 tsp spring onion paste
1 tsp garlic paste
2 chopped green chillies
Grated rind of 1 lemon
2 tsp chopped coriander
1 Tbsp bread crumbs
Salt to taste
Batter:
100 gm flour
Pinch of salt
3/4 tsp bicarbonate of soda
125 ml flat beer / cold water
1 tsp oil
1.
Combine flour, salt, bicarbonate of soda, flat beer/ ice-cold water and oil. Whisk until smooth and chill for 1 hour before use.
2.
Heat the butter; add finely chopped mushroom stalks, onion, garlic, chillies, lemon rind, coriander, and breadcrumbs.
3.
Cook for 3-5 minutes. Stuff the mushroom cavities with the filling. Dust with seasoned flour and set aside.
4.
Dip the mushroom in the batter and fry in hot oil until crisp and golden in color.
5.
Season with salt and serve hot. Season with salt and pepper.