Story Progress
Back to home
Beggar's Purse Recipe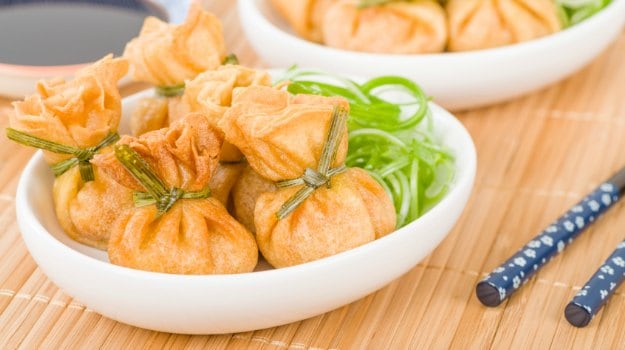 How to make Beggar's Purse
About Beggar's Purse Recipe: Veggies, spices, baby prawns, khoya and nuts sauteed, placed in filo pastry squares and deep fried. Served with a light salad.

Ingredients of Beggar's Purse
1 Onion
1 Tbsp Ginger paste
1 Tbsp Garlic paste
3 Tomatoes
To taste Salt
1/2 tsp Red chilli powder
1/2 tsp Red chilli (crushed)
1 tsp Black pepper (crushed)
1 Tbsp Chicken powder
6 Green chillies
1 Bunch Fresh soya (dill)
1/2 Bunch Fresh coriander
20-25 Baby prawns (cleaned, shelled and deveined)
25 Gram Pine nuts
3-5 Tbsp Khoya
15-20 Pieces Filo pastry
2 Pieces Leeks (long and green leaves)
1 Litre Oil (for frying)
For garnish/salad:
8-10 Large Lemons
3 Red radish
100 Gram Rocket leaves
100 Gram Baby spinach
2 Large Cucumbers (wide)
For sauce:
1/2 Litre Orange juice (pulpy) (or 2 fresh oranges)
1 tsp Ginger, chopped
2 Tbsp Sugar
3 Pieces Star anise
4 Cloves (laung)
1.
In a saucepan, put oil, chopped onion, ginger paste, garlic paste.
2.
Saute for 4-5 minutes and then put chopped tomatoes and then put all the spices including chopped green chillies, soya (dill) and coriander.
3.
Now put chunks of baby prawns and roasted pine nuts and khoya.
4.
Once the filling is cooled, make small squares of filo and put the stuffing. Tie with leek threads. Deep fry.
Prepare Sauce:
1.
In a heavy pan, put orange juice, chopped ginger, sugar, star anise and cloves and reduce.
2.
Make a light salad, by combining all the greens and mixing well with lemon juice, salt and pine nuts.