Story Progress
Back to home
Bharwan Guchchi Recipe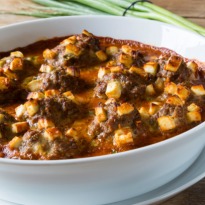 A gastronomic exploration of guchchi, stuffed with paneer and bathed in a hot and sour gravy. It's a must try!

Ingredients of Bharwan Guchchi
12 pieces guchchi (black mushrooms), washed well and slit lengthwise
For stuffing:
Mix together 100 gm mashed paneer-mashed
1/2 tsp salt
1 tsp amchoor powder
1/2 tsp red chilli powder
1/2 tsp garam masala
For the gravy:
3 Tbsp oil
3 medium onions
2 medium tomatoes
2.5 cm ginger piece
8-10, garlic
Cloves
1/2 tsp red chilli powder
1 tsp garam masala
1 tsp salt
3 tsp coriander powder
1/2 tsp turmeric powder
2 Tbsp poppy seed powder
1 cup fresh coconut paste
Saffron, diluted in water
1.
Soak the guchchi in warm water for 30 minutes.
2.
Wash away the grit and soak well.
3.
Squeeze out the water and fill the hollow center with paneer stuffing.
4.
Grind onion, ginger, garlic and tomatoes to a paste.
5.
Heat oil in a pan; remove from heat.
6.
Add red chilli powder and return to medium heat.
7.
Stir in the onion paste and fry until brown.
8.
Add coconut paste and remaining spices, fry until brown.
9.
Add guchchi, a cup of water and let it simmer for 10 minutes.
10.
Sprinkle with the diluted saffron and serve.