Story Progress
Back to home
Bunny Chow Recipe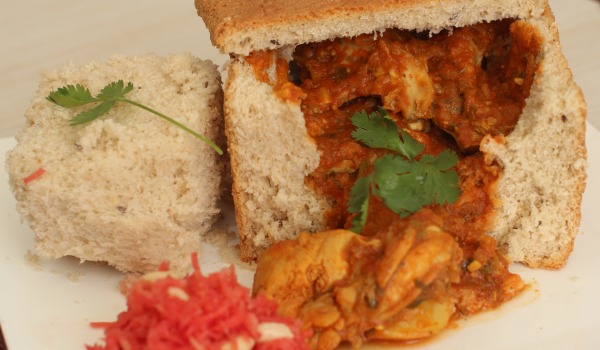 Bunny Chow is a South African fast food dish consisting of a bread loaf filled with meat curry. This recipes makes use of chicken.
Total Cook Time

1 hr 10 mins

Ingredients of Bunny Chow
5 Tbsp oil
4 large finely chopped onions
1 pod of finely chopped garlic
3 finely chopped green chillies
1 1/2 tsp ground fennel
1 1/2 tsp ground cumin
1 1/2 tsp ground garam masala
1 1/2 tsp ground coriander
1 1/2 tsp ground cinnamon
1 1/2 tsp turmeric powder
2 medium sized potatoes halved
100 gm tomato paste
250 gm tomato puree
800 gm chicken with bone
2 unsliced whole loaves of bread
Salt to flavor
For the carrot salad:
4 carrots grated
1 lemon squeezed
1 Tbsp brown sugar
Small handful of roasted peanuts
A pinch of salt
1.
Saute the garlic in oil. When the garlic is a little brown add the onions. Saute to brwon.
2.
Now add the green chillies. Then add the turmeric, fennel, cumin and all the other powdered spices.
3.
Add all the spices and fry for 2-3 minutes, stirring continuously.
4.
Now add the potatoes. Mix with the spices.
5.
Now add the tomatoes puree cook till the tomatoes leave oil.
6.
Now add the meat and saute it for a few minutes.
7.
Add some water for the spices and meat to cook. Let it simmer slowly on low heat.
9.
Cover it and let it cook for about half an hour to forty minutes till the meat becomes tender.
For the carrot salad:
1.
Make a dressing of the lemon juice, brown sugar and salt by dissolving them together and then spread over the grated carrots. Add the roasted peanuts for crunch.
3.
Cut the fresh white bread loaves into halves or quarters for smaller portions and hollow out the center, keeping the spare bread to one side.
4.
Fill the hollowed out bread with the hot chicken curry with the gravy so that the bread soaks it all up.
5.
Serve it with the scooped out bread and the carrot salad.