Story Progress
Back to home
Caramel Spiced Mango Mousse Recipe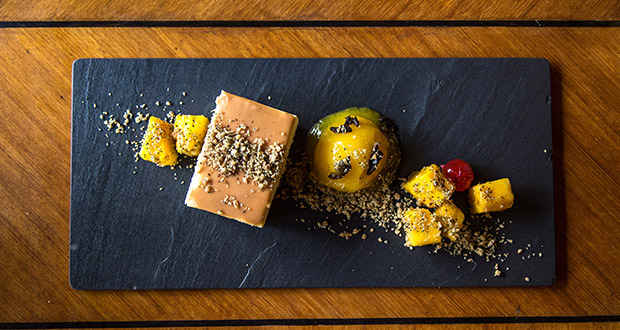 The sweet fragrance of fresh mango is given a twist with the spicy punch of sichuan pepper leaving your taste buds with a warm fuzzy feeling.

Ingredients of Caramel Spiced Mango Mousse
For the Mousse:
500 gm fresh mango (chopped)
100 gm mango crush
150 gm cream cheese
150 gm Mascarpone cheese
600 gm rich cream whipped
20 gm gelatin
6 egg yolks
40 gm sugar
2 gm sichuan pepper
For the Caramel:
100 gm sugar
100 gm butter
100 ml heavy cream
1.
Mix fresh mango and mango crush together and keep aside.
2.
Mash philadelphia cheese to creamy consistency mix in mascarpone cheese and fold in whipped rich cream and set aside.
3.
Beet egg yolk and sugar together to form a consistency fold in the cheese mixture and then the mango mixture and the crushed Sichuan pepper.
4.
Melt the Gelentine in luke warm water (50gm).
5.
Add this melted Gelentine in the above mixture.
6.
Set in a tray, leave it for 6-8 hours, cut 12 each equal potion of 125 gm for a portion.
7.
Melt the sugar to golden colour on a medium flame. Turn off the flame and add butter
8.
Mix properly, add heavy cream, stir constantly on a light flame to get a smooth sauce consistency mixture.
10.
Apply a required quantity of caramel sauce over the mango mousse portion and serve chilled