Story Progress
Back to home
Cheese and Lamb Steaks Recipe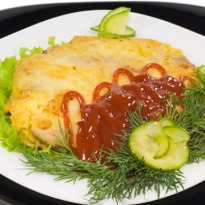 How to make Cheese and Lamb Steaks
Succulent lamb steak rolled in garden fresh ingredients and cheese - fried and baked.

Ingredients of Cheese and Lamb Steaks
2 Tbsp Basil Leaves
1 Bay Leaf
2 sprigs Fresh Thyme
4 Tbsp Olive Oil
1 Large Onion (ground)
1 Kg Tomatoes(peeled and seeded), chopped
3 tsp Garlic, finely chopped
4 Lamb Steaks
2 Tbsp Flour (seasoned)
2 Eggs(beaten)
150 Gram Fresh breadcrumbs
25 Gram Cheese, grated
1 Tbsp Parsley, finely chopped
100 Ml Oil
50 Gram Butter
250 Gram Mozzarella Cheese-sliced
1.
Heat oil. Soften the onions; add tomatoes, garlic, bay leaf and thyme. Season and simmer.
2.
Coat lamb in flour. Toss in beaten egg.
3.
Combine crumbs, cheese and parsley.
4.
Press over meat. Heat oil with butter and fry meat until tender, turning once.
5.
Arrange in ovenproof dish.
6.
Cover with mozzarella cheese. Bake at 200 degrees C for 10 minutes.
7.
Serve with tomato sauce, garnished with basil leaves.