Story Progress
Back to home
Cheese and Pesto Eggplant Recipe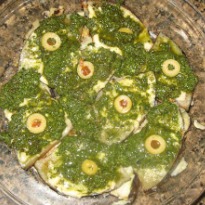 Eggplant laced with parmesan cheese and baked in pesto with olives.

Ingredients of Cheese and Pesto Eggplant
1 medium sized eggplant, cut into thin slices and lightly salted
1 small bowl Parmesan or cheddar cheese (You can mix both), grated
2 eggs, whisked
2 tsp olive oil
1 medium bowl of pesto sauce
10-13 sliced olives
For the pesto sauce:
1 big Tbsp pine nuts
1/2 tsp garlic paste
1/2 cup olive oil
2 1/2 cups fresh basil leaves
Salt and pepper
2 Tbsp Parmesan cheese
1 big Tbsp butter
1.
Cut the eggplant rounds into triangles or keep whole.
2.
Dip each eggplant in egg wash and then press on to the cheese (only on one side).
3.
Heat the olive oil and lightly place each eggplant with cheese till slightly brown.
4.
Now layer the eggplant in a casserole and top with pesto. Sprinkle the thinly sliced olives on top. You can make a few layers one on top of each other.
5.
Bake in oven till pesto is warm.
For the pesto sauce:
1.
Blend all ingredients in the given order.
2.
Start with pine nuts and garlic. Then add basil and olive oil. Blend. Add pepper and salt. Lastly add butter and Parmesan and give a final blend.