Story Progress
Back to home
Chicken Tagine and Couscous Recipe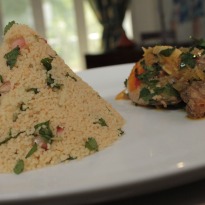 How to make Chicken Tagine and Couscous
About Chicken Tagine and Couscous Recipe: Dig in this healthy couscous with the goodness of pomegranate and mint. Served with an easy to make chicken tagine cooked with preserved lemons, saffron and olives.
Total Cook Time

1 hr 15 mins

Ingredients of Chicken Tagine and Couscous
For Chicken Tagine:
6-7 Saffron threads
1/2 litre Chicken stock
4 tbsp Olive oil
1 Onion, chopped
1 tsp Ginger, chopped
2 tsp Garlic flakes
1/2 tsp Cumin powder
1 Preserved lemon
1 tbsp Parsley, chopped
1 Free chicken (joined)
For Couscous:
500 gram Couscous
Salt
Pepper
1/2 tsp Chilli powder
1 small Pomegranate bowl
2 tbsp Mint, chopped
1.
Add some saffron threads to the chicken stock.
2.
In a pan, heat olive oil; add onions, ginger, garlic flakes, and cumin powder. Cook until golden brown and saute.
3.
Add chicken pieces to the cooked onions. Add saffron infused chicken stalk, pepper and preserved lemon. Cook on low simmer.
4.
Now, place the chicken into the tagine and bake for 30-40 minutes at 150 C. Garnish with chopped parsley.
5.
Take couscous in a deep bowl, add water, salt, chilli. Cover the bowl with a cling and keep it aside for 5-6 minutes.
6.
Add pomegranate, mint and toss them together.
7.
To Serve: Serve chicken tagine with couscous.