Story Progress
Back to home
Chilled Melon Soup Recipe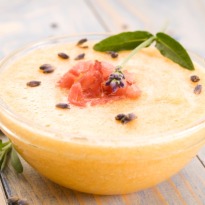 A chilled soup of melons, grape juice and lime.

Ingredients of Chilled Melon Soup
1 medium melon, seeded and chopped
100 ml white grape juice
1-2 Tbsp lime juice
1 tsp dried crumbled mint
1 tsp roasted fennel seeds
Grated rind of 1 orange/sweet lime
150 ml curd
Salt and pepper to taste
Garnish:
Blanched orange peel strips
Peeled grapes
Diced melon
Croutons
1.
Blend all soup ingredients together.
3.
Re-season and chill thoroughly.
4.
Serve soup garnished with peel, fruit and croutons.