Story Progress
Back to home
Chocolates with Soft Centers Recipe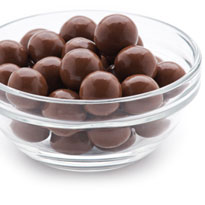 How to make Chocolates with Soft Centers
Chocolate coated with chocolate, heavenly!

Ingredients of Chocolates with Soft Centers
160 gm semi sweet chocolate
2 Tbsp milk
1 cup nuts - chopped
1 tsp vanilla/almond essence
A greased plate to keep the chocolates
For Chocolate Centers:
1 1/2 cups icing sugar
1 cup butter
1 cup cocoa powder
1 tsp vanilla
1.
Place chocolate and milk in a pan. In a bigger pan, bring water to a boil and shut off the heat. Immediately, place the pan with the chocolate over this hot water and stir slowly as soon as it starts to melt.
2.
When the whole mixture is well blended take the pan off the heat immediately. Let the chocolate cool a little, till it gets thick.
3.
When semi set, dip the centers in the chocolate and place on the greased plate and leave to set. Your chocolates are ready.
For Chocolate Centers:
1.
Mix all the ingredients together and beat with an electric beater till mixture holds its shape. Make little balls and leave to set and dry out a bit, before using.