Story Progress
Back to home
Cucumber, Radish And Ivy Gourd Carpaccio Recipe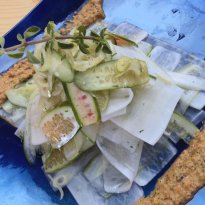 Cucumbers, ivy gourd and radish are marinated in a luscious mixture and served with red pepper pesto.

Ingredients of Cucumber, Radish And Ivy Gourd Carpaccio
1 medium sized cucumber
3 ivy gourd/ tindli
1/2 medium white radish
The cure:
1 tsp sugar
1/2 tsp salt
1 tsp vinegar
1 tsp dill
20 gm fennel sliced
1 tsp lemon juice
2 tsp olive oil
2 tsp scallion sliced
Red pepper and peanut pesto:
1/2 roasted and peeled red bell pepper
30 gm toasted unsalted peanuts
1/2 tsp ginger chopped
1/2 green chilli chopped
2-3 Tbsp olive oil
1/2 red apple
1 tsp jaggery
1 Tbsp apple cider vinegar
1/3 cup coriander leaves chopped
1.
Wash and pat dry the cucumbers, tindli/ivy gourd and radish.
2.
Slice lengthwise very finely to create long ribbons.
For the marinade:
1.
Whisk the sugar and salt along with the vinegar, dill, sliced fennel, scallions and lemon juice.
3.
Pour the marinade over the vegetable ribbons and rest in the fridge for an hour or so.
4.
Dress the ribbons of veggies on a plate and spoon some red pepper pesto and basil oil.
For the red pepper pesto:
1.
Put all the ingredients into a blender and blitz into a coarse thick paste.