Story Progress
Back to home
Raw Mango Dal Recipe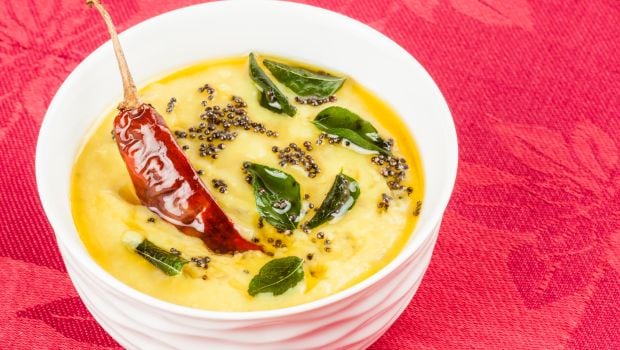 How to make Raw Mango Dal
About Raw Mango Dal Recipe: Toor dal (Pigeon pea) cooked with Indian spices and raw mango. Tempered with red chillies, curry leaves and mustard seeds. Serve with cooked rice for a whole, delicious meal.

Ingredients of Raw Mango Dal
300 gms toor dal
1 medium raw mango
3 tbsp refined oil
1 tsp yellow chilli powder
3 tsp ginger paste
3 tsp garlic paste
1/2 tsp turmeric powder
lemon juice (optional)
For the Tempering:
1 tsp ghee
Handful of curry leaves
1 tsp mustard seeds
1 tsp cumin seeds
2-4 whole red chillies
1 tbsp garlic, chopped
to taste salt
water (as required)
1.
Soak toor dal for twenty minutes with very little water.
2.
Peel the mango and cut it in small cubes.
3.
Heat refined oil in a pan, strain toor dal and roast it.
4.
Add yellow chilli powder, ginger paste, garlic paste, turmeric powder and water and cook. Add the mangoes, salt and lemon juice (optional).
5.
Take ghee in a pan, add curry leaves, mustard seeds, cumin, red chillies and garlic and fry it.
6.
Add half of the tempering in dal and the rest of the tempering is to be used as garnish.
7.
Cook for few minutes and serve.