Story Progress
Back to home
Dorro Wot Recipe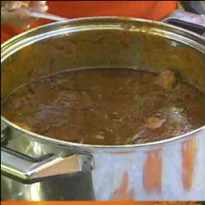 How To Make Dorro Wot
Chicken pieces rolled in with spiced butter and berbere - two different shades of masalas.

Ingredients of Dorro Wot
1 kg chicken - cut into 12 pieces, washed with water, salt and lemon juice
10-12 boiled eggs
1/2 cup onions - chopped
1-2 cups water
4 tbsp berbere
2 tbsp spiced butter
1 tbsp garlic - chopped
2 tsp cardamom powder
1/2 tbsp black pepper
salt to taste
oil
For Spiced Butter
1 kg unsalted butter
1 onion - chopped
3 tbsp garlic - minced
4 tsp ginger - chopped
2 tsp turmeric powder
1/4 tsp cardamom powder
1 inch cinnamon stick
1 whole clove
1/8 tsp nutmeg powder
For Berbere
1/2 red pepper
1/2 tsp cardamom
2-3 cloves
1/2 tsp nutmeg
1/2 tsp ginger - chopped
1/2 tsp ground fenugreek
1/2 tsp cumin
1/2 tsp onion - chopped
1/2 tsp garlic - chopped
1.
To prepare berbere, roast all the ingredients. Cool and grind to a powder.
2.
To prepare spiced butter, melt the butter in a pan and bring to a boil. Add rest of the ingredients and let it simmer for few minutes. Do not stir, cool and store.
3.
For Dorro Wot Take a pan and cook the onions for few minutes. Add the oil later and mix well.
4.
Once the onions are brown, add berbere.
5.
Cook for few minutes stirring constantly.
6.
Now add the spiced butter and mix well.
7.
Make small cuts in the chicken pieces and also pierce the eggs before adding them to the sauce.
8.
Simmer till the chicken is done.
9.
Now add chopped garlic and cinnamon.
10.
Sprinkle black pepper and serve.