Story Progress
Back to home
Dum Aloo Lakhnavi Recipe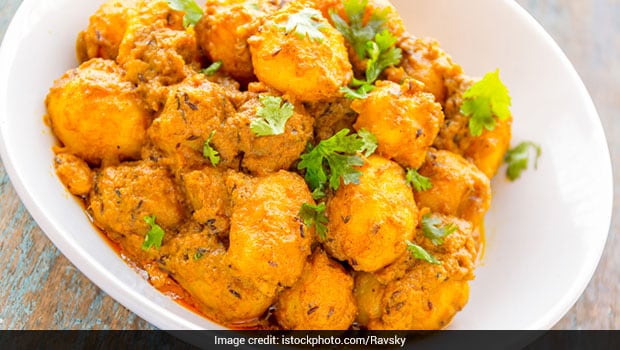 How to make Dum Aloo Lakhnavi
About Dum Aloo Lakhnavi Recipe: Fried potatoes stuffed with paneer, dizzled in a rich, spiced and tangy onion and tomato gravy. A perfect dish to dazzle a crowd.

Ingredients of Dum Aloo Lakhnavi
1/2 Kg Potatoes
100 gms Potatoes, mashed
100 gms Crumbled paneer
1 tsp Red chilli powder and salt
1 tsp Garam masala
1 1/2 tsp Kasoori methi
3 tbsp Ghee
1 tbsp Butter
1 tbsp Cream
For the onion gravy:
200 gms Onions
1/2 tsp Garam masala
to taste Salt
1 tsp Ghee
For the tomato gravy:
200 gms Fresh tomato puree
to taste Salt
1 tsp Ghee
Prepare onion gravy:
1.
Heat some ghee in a pan and saute all the ingredients. The onions should be nice and glossy. Keep aside.
Prepare tomato gravy:
1.
In another pan, heat some ghee and cook all the ingredients for a couple of minutes. Keep aside.
Prepare the potatoes:
1.
Cut out the cores of the potatoes and deep fry the potatoes.
2.
While the potatoes cool down make the filling. Mix the mashed potatoes and paneer together. This is the filling.
3.
Stuff the fried potatoes with the filling and keep aside.
Prepare the final preparation:
1.
Cook the onion and tomato gravies in oil until the oil separates.
2.
Add all the garama masala, chilli powder and kasoori methi. Mix. Cook for 1 minute.
3.
Stir in the butter and the cream. Mix well.
4.
Finally, add the potatoes and simmer for about 3-5 minutes.
Recipe Notes
The recipe video uses a different quantity of ingredients for representation. You can alter the quantity as per your need.