Story Progress
Back to home
Eggless Red Velvet Cupcakes Recipe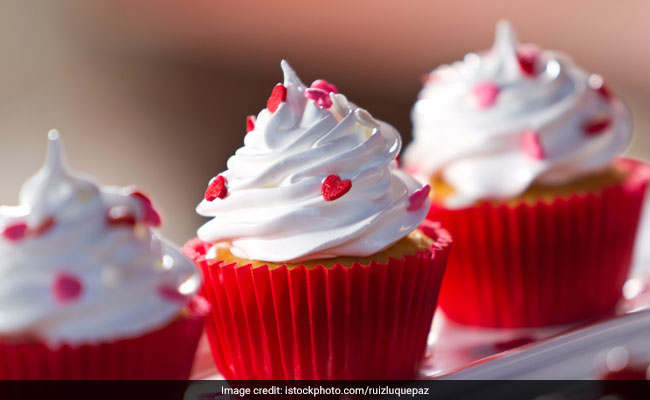 How to make Eggless Red Velvet Cupcakes
About Eggless Red Velvet Cupcakes Recipe: Sweet Siren! Red velvet cupcakes calling, this time with a unique twist. Get the radiant red colour with an innovative addition of beetroot. Indulge and enjoy.

Ingredients of Eggless Red Velvet Cupcakes
3/4 cup beetroot puree
1 1/2 cups refined flour
1 1/2 Tbsp baking powder
1/4 tsp salt
4 Tbsp cocoa powder
1/2 cup oil
1 cup granulated sugar
1 Tbsp vinegar
1/2 cup milk
Sugar sprinklers for decoration
Edible sugar balls for decoration
Icing sugar for dusting
For topping:
1 cup cream cheese
2 Tbsp fresh cream
1/2 cup butter
1/2 cup icing sugar
2.
Line a silicon cupcake mould tray with cupcake liners.
3.
Combine flour, baking powder, salt and cocoa powder into a bowl and mix well.
4.
Take beetroot puree in another bowl.
5.
Add oil and sugar and mix well.
6.
Blend the mixture till well mixed.
7.
Transfer into another bowl.
8.
Add vinegar and milk to beetroot mixture and whisk well, set aside for 5 minutes.
9.
Sieve the flour mixture into beetroot mixture and fold lightly till well blended into a batter.
10.
Spoon the batter into the cupcake liners filling 3/4th.
11.
Put the mould in the preheated oven and bake for 14-16 minutes.
12.
To make topping, combine cream, butter and icing sugar in a bowl and whisk well.
13.
Add cream cheese and whisk well.
14.
Remove the mould from oven and cool to room temperature.
15.
Remove cupcakes from the mould, pipe out the topping on each, decorate with sugar sprinklers and sugar balls.
16.
Dust with icing sugar and serve immediately.