Story Progress
Back to home
Fish Andlouse Recipe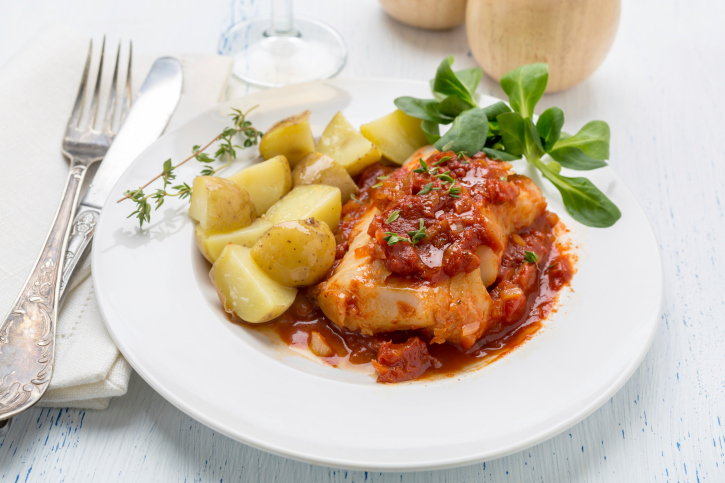 How to make Fish Andlouse
An easy-to-follow fish dish, baked in a divine sauce made from tomatoes and an eclectic mix of fresh and dry herbs.

Ingredients of Fish Andlouse
50 Ml White wine and water mix to cover
1 Onion, sliced
to taste Salt
1 Bay leaf
1/4 tsp Black pepper corns
For tomato sauce:
2 tbsp Olive oil
1 Onion, finely chopped
3 tsp Garlic, chopped
1 kg Tomatoes (peeled and seeded), chopped
2 tbsp Basil leaves
2 Spring fresh thyme - optional 1 bay leaf
Salt and pepper
For dressing:
2 tbsp Olive oil
1 tbsp Wine vinegar
1/2 tsp Prepared mustard
Salt and pepper
3 tbsp Assorted garden herbs ( parsley, basil etc.
1.
Arrange fish in a buttered ovenproof dish.
2.
Pour some wine and water over it.
3.
Add onion seasoning and peppercorns.
4.
Cover the dish with foil. Bake at 170 degrees for 15 minutes or till the fish flakes easily.
5.
Cool in poaching liquid. Strain the liquid and set aside.
Prepare the Sauce:
1.
Heat 4 Tbsp olive oil, soften onions and garlic for 5 minutes without colouring.
2.
Stir in the tomatoes, basil, thyme, bay leaf and seasoning. Simmer sauce until it thickens.
3.
Puree and strain. Re-season. Set aside to cool.
Prepare the Dressing:
1.
Whisk all the ingredients together.
2.
Combine with the prepared tomato sauce.
3.
Pour in a little of the poaching liquid from the fish. Re-season.
4.
Coat tomato dressing over the fish fillets