Story Progress
Back to home
Foto Bhuno Gosht (Sindhi Mutton Chops) Recipe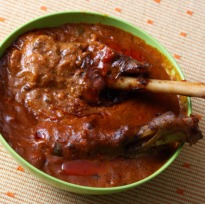 This exquisite Sindhi delicacy is a real delight for meat lovers. The mutton chops are cooked till they're juicy and tender making this dish hard to resist.

Ingredients of Foto Bhuno Gosht (Sindhi Mutton Chops)
1 kg mutton chops
4 Tbsp oil (60 gm)
6 green cardamoms, powdered
1 tbsp ginger-finely chopped
1 tsp salt or to taste
1 tsp black pepper powder
2 tsp coriander (dhania) powder
1 Tbsp atta (whole wheat flour)
3 Tbsp water
2 Tbsp coriander leaves (hara dhania)
1.
Heat the oil, add cardamom and ginger and saute till brown.
2.
Add the chops and saute over high heat till they turn slightly dark.
3.
Add salt, black pepper, coriander powder and mix well.
4.
Add enough water to cover the mutton and cook till tender.
5.
Add the flour mixture, bring to a boil and simmer for a minute.
6.
Garnish with coriander leaves and serve hot.