Story Progress
Back to home
Fresh Methi Chicken Recipe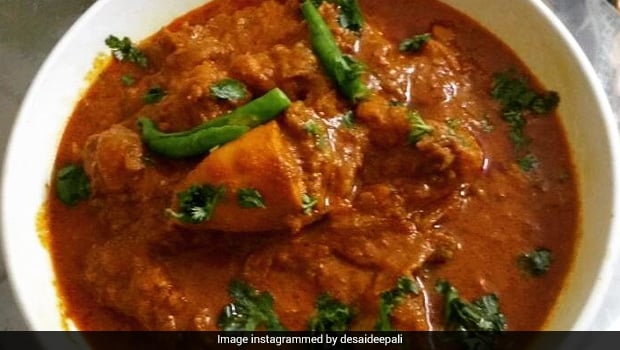 How to make Fresh Methi Chicken
About Fresh Methi Chicken Recipe: A chicken curry with Fenugreek leaves (methi) is a hearty and healthy dish that is just perfect for a quick dinner dish. The subtle yet unique flavour of methi that comes in the curry is so refreshing and as delicious as it can get.
Ingredients of Fresh Methi Chicken recipe
: Tender chicken chunks cooked with assorted spices and fresh methi (fenugreek) leaves.

Ingredients of Fresh Methi Chicken
3/4 Kg chicken (boneless, cut into medium sized pieces)
1 medium onions, finely chopped
2 medium tomatoes (grind to a smooth paste), finely chopped
4-5 tbsp cooking oil
1 tsp shahi jeera (black cumin seeds)
10-12 fresh curry leaves
to taste salt
1 tsp turmeric (pasupu)
2 1/2 tsp ginger & garlic paste
1 1/2 tsp cumin powder
1 1/2 tsp coriander powder
3 tsp red chilli powder (adjust according to your taste)
1 cup water (add more if required)
2 tbsp yogurt (whisk it with a fork smoothly and set aside)
2 cups fresh methi leaves (fenugreek leaves), finely chopped
2 tsp garam masala powder
2 tbsp coriander leaves , finely chopped
1.
In a wide bottomed vessel, heat oil. On low heat, add shahi jeera and fry for a few seconds. Add curry leaves, toss them and then add chopped onions, salt and turmeric.
2.
Increase the flame to medium and fry till the onions turn golden brown (around 8 minutes).
3.
Add ginger & garlic paste and fry for 1-2 minutes till the raw smell disappears.
4.
Add chicken add cumin powder, coriander powder, chilli powder, mix well, cover and cook for 4-5 minutes stirring in between.
5.
Add tomato paste, water and bring it to boil on high flame.
6.
When the gravy starts boiling reduce the flame to medium, cover and cook for around 10 - 15 minutes or till the chicken is tender and the gravy starts turning thick. By this time the oil starts floating on top of the gravy.
7.
Add whisked yoghurt, gently mix, add freshly chopped methi leaves, gently mix so the chicken pieces do not break.
8.
Lower the flame and allow to cook uncovered for 5 minutes.
9.
Just before turning off the heat, add garam masala powder, mix well, adjust salt and chilli powder if required.
10.
Garnish with freshly chopped coriander leaves.
11.
Serve hot with steamed basmati rice, rotis or naan.
Nutritional Value