Story Progress
Back to home
Methi Murgh Recipe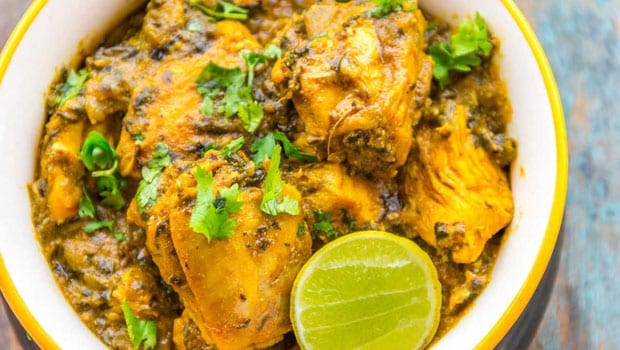 How to make Methi Murgh
About Methi Murgh Recipe: This is a delight for chicken lovers. Chicken and Methi compliment each other really well and makes for this delicious dinner party dish. Prepare this delicious chicken recipe for dinner, paired with any Indian bread of your choice.
Total Cook Time

1 hr 25 mins

Ingredients of Methi Murgh
To prepare:
450 gram chicken breast (boneless, cut into 2 inch cubes)
220 gram fresh fenugreek (methi)
For Pre-marinade:
to taste salt
2 tsp lemon juice
1 tsp white pepper
5 gram ginger paste
10 gram garlic paste
3 gram freshly ground black peppercorns
5 tbsp mustard oil
1 tsp cumin seeds (jeera)
20 gram garlic, finely chopped
60 gram onions, finely chopped
to taste salt
5 gram ginger , finely chopped
2 medium green chilles, finely chopped
125 gram yogurt (whisk well)
A pinch of black cardamom powder
A pinch of cinnamon powder
20 gram coriander leaves, finely chopped
1 tsp lemon juice
1 inch piece ginger, julienne
1.
Wash the chicken and shake dry. Move to a bowl. Add the pre-marinade ingredients, mix well and keep aside
2.
Chop the fresh fenugreek, sprinkle with salt and rub the salt on the leaves with your hands in a bowl. Keep for 5 minutes and wash in running water until all traces of salt have been removed. (This is done to reduce the bitterness of the fenugreek). Shake dry and keep aside.
3.
Add mustard oil in a pan, increase to high heat until the oil starts to smoke. Reduce heat until smoking stops and oil reaches medium temperature. Add cumin, stir, add chopped garlic and continue to stir until garlic is light golden brown. Add onions, increase heat to medium and roast until golden brown.
4.
Add fenugreek to the above, and continue to stir and roast (approx 4-5 minutes) until you can see oil on the sides. Then add ginger and green chillies, stir, add yoghurt and roast until the moisture is reduced and oil appears on the sides.
5.
Add chicken, increase to high heat and sear for 2-3 minutes, reduce heat to medium and continue to cook until the chicken is fully cooked and oil appears on the sides.
6.
Add the cardamom and cinnamon powders, coriander leaves, lemon juice, stir and remove from the fire.
7.
Transfer to a bowl, garnish with ginger juliennes and fresh cream (optional) and serve.