Story Progress
Back to home
Green Curry Chicken Recipe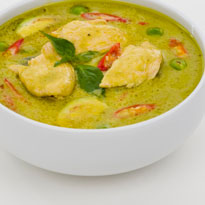 How to make Green Curry Chicken
Aubergines, mushrooms and chicken cooked in freshly made green curry paste and vegetable stock.

Ingredients of Green Curry Chicken
For the Curry Paste:
1 Tbsp Lemon Grass, finely chopped
1 Tbsp Back peppercorns
1 Tbsp Coriander Root
2 Tbsp Shallots , chopped
2 Tbsp Garlic , chopped
10 Small Green Chilies
1 tsp Ground Cumin Seeds
1 tsp Coriander Seeds
1 tsp Galangal , chopped
1 tsp Kaffir Lime Peel, chopped
For the Vegetable Stock:
5 Cups Water
1 Medium Onion (quartered)
2 Carrots, chopped
2 Celery stalks , chopped
3-4 Coriander stems and roots
1 tsp Whole Black Peppercorns
For the Green Curry:
3 Tbsp Green Curry Paste
3 Cups Coconut milk
1/2 Cup Aubergine (diced)
1/2 Cup Green Aubergine (diced)
1 Cup Button Mushrooms
1 Cup Bok Choy (Chinese cabbage)
400 Gram Boneless Chicken
1/2 Cup Vegetable stock
5-6 tsp Cornflour
1 Tbsp Sugar
2 Lemon Grass sticks
4-5 Kaffir Lime Leaves, chopped
3-4 Small Red or Green Chilies, sliced
15 Thai Basil Leaves
1.
Take all the ingredients of the curry paste in a mortar pound and mix together until a soft paste forms.
2.
Heat the oil, add the curry paste, briefly stir then add the coconut milk and stir well.
3.
Add the aubergines, mushrooms and chicken pieces in turn, stirring constantly
4.
In another large pan, boil all the vegetable stock ingredients together and simmer until reduced by about one fifth..Now add the sugar and vegetable stock in the curry paste, stir and add the cornflour to thicken.
5.
Cook on slow fire for some time and then mix in the lemon grass and kaffir lime leaves.
6.
Once the chicken is done, stir in the chillies and Thai basil leaves, bring to a boil and serve hot.