Story Progress
Back to home
Grilled Chicken Breasts with Lemongrass & Chilli Recipe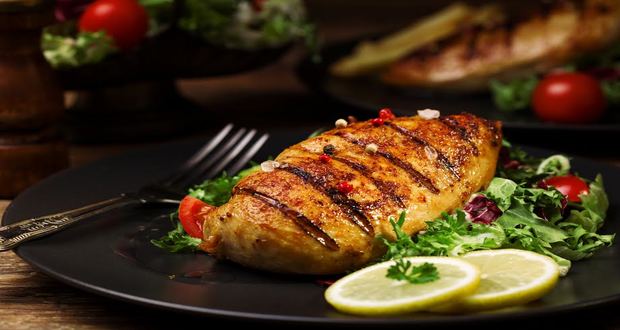 How to make Grilled Chicken Breasts with Lemongrass & Chilli
Aditya Bal breaks bread with Riyaaz Amlani, the owner of Stone Water Grill in Pune. Together with the chef they rustle up a grilled chicken with lime and chilli.

Ingredients of Grilled Chicken Breasts with Lemongrass & Chilli
2 chicken breasts
1 Tbsp red wine
1 Tbsp sauce
Marinade:
1 tsp chilli flakes
1/2 tsp rind of lemon
1/2 tsp sweet paprika
1 tsp garlic
1 tsp coriander leaves, chopped
1 Tbsp olive oil
1/2 tsp lime juice
For the Mash:
2 potatoes, boiled and mashed
1-2 Tbsp jalapenos
1 Tbsp olive oil
1 tsp balsamic vinegar
How to Make Grilled Chicken Breasts with Lemongrass & Chilli
Hide

Show

Media
1.
Put some chili flakes in a plate. Add lemon, sweet paprika, chopped garlic, lime juice and some coriander followed by a pinch of salt with some olive oil.
2.
This is your marinade for the chicken.
3.
Coat the chicken well in the marinade and keep it aside for 15 minutes.
4.
Pre-heat two pans in which the chicken will cook and one for the jalapeno mash.
5.
After 15 minutes, put in one pre-heated pan a little olive oil and the chicken breasts.
6.
Put the pan back into the oven for about 8 minutes.
7.
In another pre-heated pan put some olive oil, some jalapenos and then the potato mash.
8.
Season with salt and pepper and put into the oven for 3-5 minutes.
9.
Take out the chicken and add some red wine to it and de-glaze it well.
10.
Add a little bit of sauce. Here the chef uses his own restaurant prepared red wine sauce.
11.
Put it back in the oven for 3-5 minutes.
12.
The mash is then taken out and plated, then drizzle the plate with some balsamic vinegar.
13.
Place the chicken on top of the mash potatoes and add some red wine sauce on top of it.