Story Progress
Back to home
Grilled Fish South-East Asian Dressing Recipe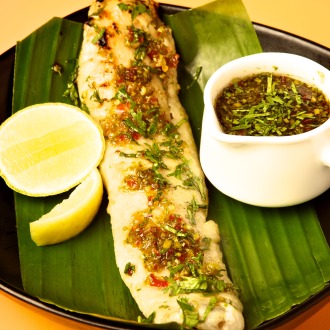 Relish melt-in-your-mouth fish fillets flavoured and grilled with fish sauce and sesame oil. This delicious platter is enjoyed best with a sweet and tangy dressing, topped with fresh red chillies and coriander.

Ingredients of Grilled Fish South-East Asian Dressing
200 gm fish fillet
10 ml sesame oil
10 ml fish sauce
2 gm sugar
For the Dressing
30 ml rice vinegar
20 gm sugar
1 gm salt
3 gm raw garlic
5 gm fresh red chili chopped
30 gm chopped fresh coridander leaf
1.
Marinate fish fillet with sesame oil, fish sauce, and sugar for 15-20 minutes.
3.
For the dressing, boil rice vinegar, sugar, salt and raw garlic for a few mintues.
4.
Take off the heat and add fresh red chilli and chopped corinander.
5.
Serve the fish hot with Southeast Asian dressing poured over it.