Story Progress
Back to home
Hare Mattar ki Tikki Recipe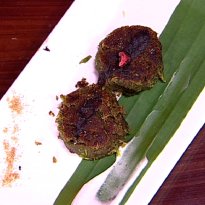 How to make Hare Mattar ki Tikki
Green pea patty with Indian spices cooked on tawa served with karonde ki chutney, green chutney and sweet yoghurt.

Ingredients of Hare Mattar ki Tikki
500 g green peas (shelled)
2 Tbsp desi ghee
1 tbsp ginger, chopped
Green chillies to taste
1 tsp cumin powder
1/2 tsp yellow chilli powder
1 Tbsp chaat masala
Salt to taste
Roasted chana powder (for binding, if required)
1 potato
1 Tbsp fresh coriander
For Tamarind Chutney:
2 Tbsp tamarind pulp
2 Tbsp jaggery (gur)
1/2 tsp garam masala powder
1/2 tsp cumin powder
For Hare Matar ki Tikki:
1.
Boil green peas and mash coarsely using a potato masher.
2.
Heat ghee in kadhai, and sauté chopped ginger and green chillies. Add mashed green peas and cook well till it leaves the sides of the pan.
3.
Add remaining spices and continue cooking.
4.
Remove from flame and add roasted channa powder for binding. Also add boiled, mashed potatoes and chopped fresh coriander.
6.
Make small patties and cook over griddle using desi ghee till nice golden crust appears.
For Tamarind Chutney:
1.
Boil tamarind pulp and jaggery together in 1 cup water.
2.
Add garam masala powder and cumin powder. Cook well to a smooth consistency.